Nuit de Powwow - par David Bouchard & Pam Aleekuk - FRENCH VERSION
$24.95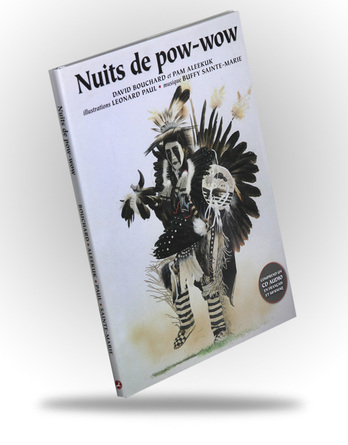 Featuring Saskatchewan Artist(s): David Bouchard
2009, 32 pages, illustrated by Leonard Paul
In French and Mi'kmaq with CD included. Music by Buffy Sainte-Marie
Published by Fitzhenry & Whiteside, Markham, Ontario
First Nation Communities Read Selection 2010
Resource Links Best Books 2010
A VOYA 2010 'Perfect Ten' Book
The Powwow is a time-honored Native American custom. It is a celebration of life and spirituality, a remembrance of traditions, uniting a people through dance and ritual.
Nuits de pow-wow, the french version of Long Powwow Nights, takes you on a wonderful journey, honouring these mystical dancers who keep their traditions alive through dance and song. In its poetic verses, David Bouchard skillfully narrates the story of a mother's dedication to her roots and her efforts to impress upon her child the importance of culture and identity.
Internationally revered Native American artist, Leonard Paul, brings the story alive with his beautiful renditions of powwow dancers, warriors, and stunning landscape.
The book is accompanied by a CD, which includes music by internationally acclaimed singer and songwriter, Buffy Sainte-Marie.
Click here to see a sample spread, pages 23 and 24,
Or here to see a trailer for Long Powwow Nights (8:07) narrated by David Bouchard.
Reviews:
"Leonard Paul's wonderful artwork is the major strength of Long Powwow Nights. The magnificent paintings have a photographic realism that, given the subject matter, is beautiful and awe-inspiring. . . Long Powwow Nights is a stunning book that will especially appeal to First Nation People and to anyone who has enjoyed the opportunity to attend a powwow ceremony.
Highly Recommended."
-- CM Magazine
"The incantatory verse that animates this song of praise to a mother who kept the magic of the powwow alive for her son's generation casts a spell, to be sure, but [Leonard Paul's] stunning paintings of dancers in full-feathered dress and face paint eclipse all else."
-- The Globe and Mail
"Breathtaking colour paintings of traditionally clothed dancers and dance scenes intensify the passion of the ritual and the Powwow experience. Readers are also inspired through included audio media by Buffy Sainte-Marie, along with English and Mi'kmaq readings by the authors. This book is a wonderful tribute to the traditional culture of the Mi'kmaq nation, as well as an enriching resource for non-natives, and a celebration of First Nations People."
Rated E (Excellent)
-- Resource Links
"Long Powwow Nights is an ambitious book, a poetic elegy. . . Leonard Paul's superb paintings, printed full bleed, show in detail the dramatic black and white raven-like facial paint of the dancers as well as their full dance regalia and their exotic daily garb. . . On the enclosed CD, Buffy Sainte-Marie provides moving musical accompaniment to the spoken word. . . Together these talented artists have created a stirring multi-media experience for readers young and old."
-- Papertigers.org
"This book takes a beautiful look at some of the valued traditions from the Native Americans. I had absolutely no idea about their culture and I was fascinated as I turned the pages and analyzed the various pictures. This book is beautiful as well as informative and I thought it did a great job of telling us about someone else's 'true life and story'."
-- bookshipper.blogspot.com
David Bouchard is one of Canada's favourite authors. He has written over two dozen best-selling books, including Nokum is My Teacher, and An Aboriginal Carol.
Pam Aleekuk grew up on the prairies and is of Métis descent. She has been nominated twice for the Governor General's Award for Excellence in teaching Canadian History.
Leonard Paul is a widely acclaimed painter born in Halifax where his art has been featured in exhibits around the world. He has been recently nominated for the Governor General's Award.
Buffy Sainte-Marie was born in Qu'Appelle Valley, Saskatchewan, and raised in Maine and Massachusetts. Buffy became known as a writer of protest songs and love songs, many of which became huge hits for artists such as Barbra Streisand, Elvis Presley, Janis Joplin, and Neil Diamond, to name a few. She is an educator, a songwriter, an artist, and a proud spokesperson for Native American Art and Culture.
ISBN: 0889954283
NAC Item Number: B0026
Related Products
About Pictures
A thoughtful and informative guide to understanding art
$19.95