The Right Frame
$18.95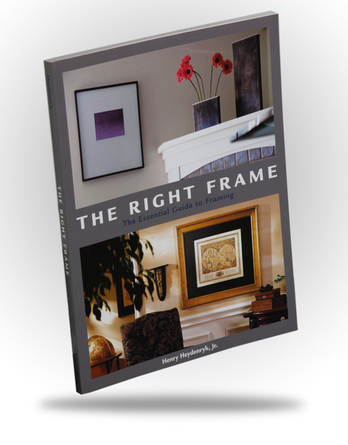 The Essential Guide to Framing
2002, 96 pages
Selecting the correct frame for a particular piece of art is a matter of great importance. The right frame can enhance and support the values of any artwork, while the wrong frame can draw attention away from it. This unique book shows you how to make this important decision. Today, there are more choices and styles of frames available than ever before--and far fewer set-in-stone rules of right and wrong.
Framers today no longer focus merely on the Old Masters; instead, they see a multiplicity of artwork enter their shops. From the standard terrain of limited-edition prints and original oils, they have ventured into the new territory of framing precious memorabilia: wedding invitations or babies' booties that commemorate a special occasion; wine labels or baseball cards that show off a collector's interest.
Custom shadow-box framing has opened an even wider vista: sports memorabilia, antiques, Christmas ornaments--anything and everything can be set off to its best advantage in a well-chosen and well-made frame.
Lavishly illustrated with more than forty full-color photographs, THE RIGHT FRAME takes you step by step through the process of choosing a frame, describing its components, then explaining the best ways to frame any artwork--it even lists the all-important "Ten Commandments for the Proper Framing of Pictures."
This is a book for art lovers, professional framers, artists, gallery owners, decorators, collectors of all kinds, and anyone who wants to find the right frame for any work of art.
Related Products
Land Marks
The Art of Dorothy Knowles
$25.95