Moments Preserved
$395.00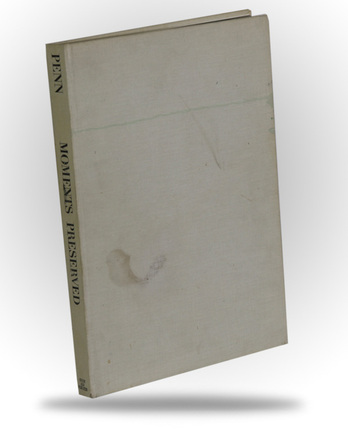 Moment Preserved - 8 Essays in Photographs and Words
First Edition - Inscribed and Signed on Frontispiece by Irving Penn
Used - Hardcover - 184 pages - 1960
13 x 9.75 inches.
Fair condition. Missing original slipcase and dust jacket. Some staining at the edge of approximately 12 pages, and approximately 8 other pages have tears or marks at the outside edge, as if they had once been stuck together by moisture. Cloth hard cover is stained on front, spine and back.
Inscribed on frontispiece: For Rene J. Ruysenaars
Signed: Irving Penn, New York, 1964
Beige cloth-covered boards with title stamped in black on spine.
Irving Penn's first book, Moments Preserved, is an overview of an astonishingly busy career -- one that began in earnest when he was hired by Alexander Liberman in 1943 to be the art director's assistant at Vogue.Penn spent a month in Lucerne, Switzerland, overseeing the printers at C. J. Bucher, who had produced Avedon's Observations the previous year. For Moments Preserved, they worked with gravure, letterpress, and offset processes on separate paper stocks and had casts of Condé Nast's original engraving plates flown in from New York for the book's color reproductions. When the first gravures didn't have the requisite depth, those pages went back to press and another image layer was laid on top of the originals. The book's first edition print run of 20,000 was divided into French, Italian, German, and English editions.Subtitled Eight Essays in Photographs and Words, Moments Preserved gathers Penn's vast variety of enthusiasms -- mostly for the vast variety of humanity -- and slots them into categories by nationality: the French, the Italians, the English, the Americans. Though most of the sections include fashion studies, still lifes, and impressionist scenes.they have in common the photographer's deftly understated portraits, printed here in the subtlest gravure. Penn reinvented the classic daylight studio portrait for a more casual time, undercutting its formality but heightening its potential as a revealing performance.
You can inquire about this item by emailing robin@sknac.ca
---
Images of used items in the NACstore are always photographs of the actual item being offered.
NAC Item Number: UB0222
Related Products