The International Art Markets
$38.95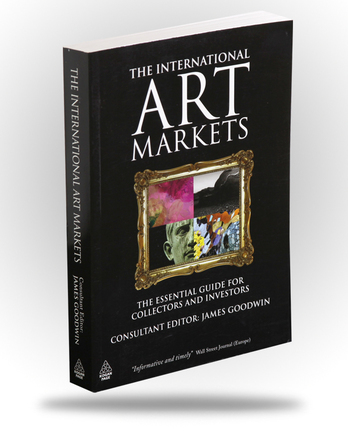 Published December 2009 - Soft Cover - 448 pages - 24 x 17 cms
Wikipedia site with links.
From the publisher - Art continues to prove itself a sound, not to mention exhilarating and satisfying investment, and The International Art Markets shows the huge scope for diversification within that market. Despite economic uncertainty, in just over two years average prices in the top 10% of the art market have risen by over 150% in real US dollar terms. Further trading opportunities are now greater than ever.
In 43 chapters, written by 58 mostly locally-based experts from the art trade, it covers 21 countries from Europe, 12 from Asia and Australasia, five from South America, four from the Middle East and Africa, and two from North America. Each chapter provides the following essential information you need to understand the market in each country: art market history including taste, fashion, value, artists, art types, subjects, sales, prices and records; market structure and performance, including auctioneers, dealers, trade associations, museums, exhibitions, fairs, training and education; and tax and regulation.
Comprehensive, informed and packed with valuable information, The International Art Markets will be the first point of reference for art collectors and investors and anyone who wants to understand the enormous breadth and complexity of the world's art markets.
Related Products