Da Vinci for Dummies
SOLD OUT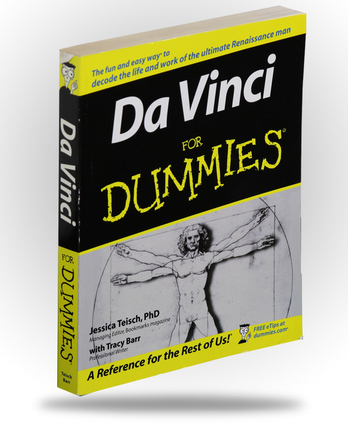 Used - Soft Cover - 366 pages - 2005 - 9.2 x 7.5 inches
Good condition. Cover's spine shows slight wear.
The fun and easy way to understand his work, his methods, and his mind

Thanks to the phenomenal success of the bestselling The Da Vinci Code, interest in this famed Renaissance artist has never been higher. This friendly guide provides an easy-to-follow introduction to da Vinci's life and works, including the story behind celebrated paintings such as the Mona Lisa and The Last Supper, the lowdown on his inventions, which include the helicopter and bicycle, and plain-English explanations of his groundbreaking scientific work in anatomy, zoology, botany, geology, optics, aerodynamics, and hydrodynamics.

The book also discusses his famed notebooks, his relationship to the Catholic Church, and the factual basis of The Da Vinci Code.

By Jessica Teisch, PhD (Berkeley, CA), Managing Editor of Bookmarks magazine and has written hundreds of profiles and book reviews for this award-winning publication. She has also written books and articles on subjects ranging from literature to technological, environmental, intellectual, and cultural history.
---
Images of used items in the NACstore are always photographs of the actual item being offered.
NAC Item Number: UB0247
Related Products
China
People, Places, Culture, History
$29.95
Kin
Limited edition book signed by Leesa Streifler
$14.95