Dry Store Room No. 1
$9.95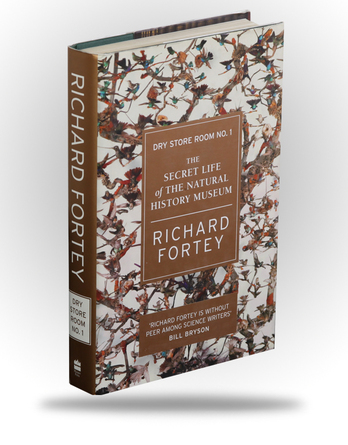 The Secret Life of the Natural History Museum
Used - Hard Cover - 352 pages - 24 x 16 x 3.6 cms
Excellent condition. Remainder mark on bottom. Book is imported - original retail price is £20.
New York Times Review - with the first chapter.
A remarkable behind-the-scenes look at the extraordinary people, meticulous research, and driving passions that make London's Natural History Museum one of the world's greatest institutions.
In an elegant and illuminating narrative, Richard Fortey takes his readers to a place where only a few privileged scientists, curators, and research specialists have been— the hallowed halls that hold the permanent collection of the Natural History Museum. Replete with fossils, jewels, rare plants, and exotic species, Fortey's walk through offers an intimate view of many of the premiere scientific accomplishments of the nineteenth, twentieth, and twenty-first centuries. Like looking into the mind of mankind and all the fascinating discoveries, ideas, and accomplishments that reside there, Fortey's tour is utterly entertaining from first to last.
---
Images of used items in the NACstore are always photographs of the actual item being offered.
NAC Item Number: UB0248
Related Products