Everything Seemed Possible
$5.95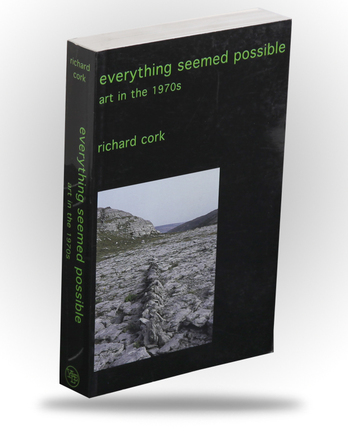 Art in the 1970's
Used - Soft Cover - 484 pages - 2003 - 5 x 8.7 inches
Excellent condition - absolutely like new.
The first part of a four-volume set of art criticism by Richard Cork, written over a 30-year period. It offers a chronicle of a turbulent period as well as an overview and survey of British art and its reception at this time. This particular work addresses the art of the 1970s. Nothing seemed off limits in the radical new art of the 1970s. Far from remaining satisfied with the old hierarchy of media, young artists emerged with a host of heretical alternatives in mind, including film, video, performance, raw documentation, photography and texts. Suddenly everything seemed possible. Art became anything that the artist wanted it to be. Some, like Richard Long and Dennis Oppenheim, decided that the entire natural world could now be regarded as their working territory. Others, including Gilbert George and Klaus Rinke, treated themselves as embodiments of living sculpture. Daniel Burren displayed his uncompromising work on a billboard in the street, while Bernd and Hilla Becher photographed the "anonymous sculpture" of industrial structures.Dan Graham's interests ranged from architecture to social interaction on video, and Hans Haacke investigated the relationship between art and politics. Women artists like Susan Hiller and the intensely controversial Mary Kelly explored territory hitherto uncharted by their male counterparts, while the possibilities of performance art were tested by groups as exuberant as Coum or Nice Style. During the 1970s Richard Cork wrote extensively about radical developments as they happened. Many of the possibilities explored during this restless and fertile time have been developed since then and young artists today owe a great debt to the spirit of audacious enquiry running through the decade.
---
Images of used items in the NACstore are always photographs of the actual item being offered.
NAC Item Number: UB0254
Related Products