Northern Sandscapes
$29.95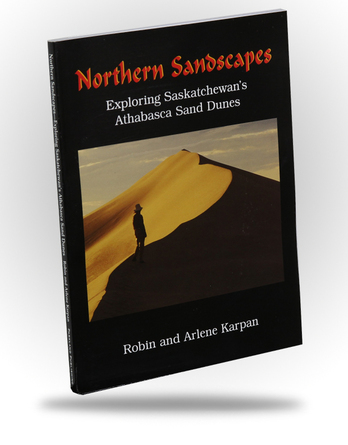 by Robin and Arlene Karpan
Soft cover, 128 pages, 4 color maps, 115 color photos
Index, bibliography, appendices
8.5 x 11 inches
It's like nowhere else on Earth - a large desert-like environment looking strangely out of place in the midst of the northern forest, with lakes, rivers, trees and massive dunes coming together to form a unique and wildly beautiful landscape.
The Athabasca Sand Dunes, now preserved as a provincial wilderness park, stretch for about 100 kilometres along the south shore of Lake Athabasca in northwest Saskatchewan. This is the largest area of active sand dunes in Canada and one of the most northerly sets of major dune fields in the world.
Northern Sandscapes - Exploring Saskatchewan's Athabasca Sand Dunes takes you on a journey through this unique and fascinating landscape.
Authors and photographers Robin and Arlene Karpan take you on a canoe trip down the William River and along the south shore of Lake Athabasca. Climb 30-metre high dunes with knife-sharp crests. Discover rare plants found nowhere else in the world. Explore ghostly stands of ancient forests buried hundreds of years ago then exhumed by moving sand.
Northern Sandscapes is a 8.5 x 11 inch 128-page high quality soft-cover book with 115 color photos that capture the splendor and beauty of the Athabasca Sand Dunes. More than a travelogue, you learn about geological forces that formed the dunes, what is special about the rare plants, the history, and what you need to know to plan a trip to the park. Appendices include lists of birds, animals, and rare plants in the park.
Related Products
Kin
Limited edition book signed by Leesa Streifler
$14.95