Basquiat
$11.95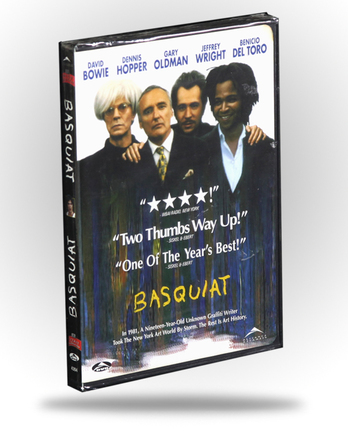 Feature film by Julian Schnabel
BASQUIAT chronicles the meteoric rise to fame of the gifted and charismatic young New York artist, Jean-Michel Basquiat, as he emerged from the streets of the East Village to become an internationally renowned sensation.
Rated R
DVD - 108 minutes - Widescreen - 2002
In his writing and directorial debut, Julian Schnabel's film Basquiat depicts the life of graffiti artist Jean-Michel Basquiat, a.k.a. SAMO, and the turbulent period from the late 1970s to 1988, as his life was catapulted into fame and notoriety. As Jean-Michel's work gained favorable attention from New York's elite art community, he went from a street punk living in a cardboard box to the first black artist to succeed in the all-white dominated art world. Tony Award-winning actor Jeffrey Wright does a brilliant job portraying a man tortured by self-doubt and thoughts of suicide, struggling to survive and be acknowledged as an artist. The film's use of dreamlike imagery and rhythmic pace tells the story from the perspective of Jean-Michel's eyes as he manages to "float" through relationships and gallery showings, until his impending death in 1988 from a heroin overdose. Brimming with talent, the film also stars David Bowie as pop-artist Andy Warhol, Michael Wincott as poet Rene Ricard, and many others, including Gary Oldman, Benicio del Toro, Dennis Hopper, and Courtney Love.
NAC Item Number: D0034
Related Products
Shekinah
Edifice & Us - Shekinah Lodge
$19.95
Gollum
Book and DVD Set
$9.95