Art for Dummies
$19.95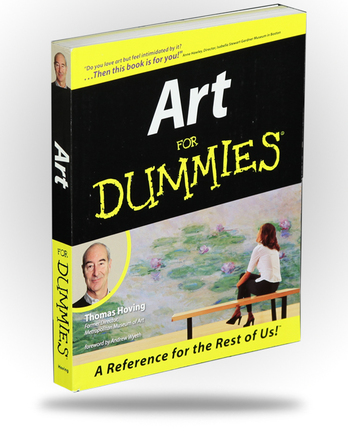 A Reference for the Rest of Us
Soft Cover - 408 pages - 1999 - 9.25" x 7.25"
Cover price is $31.99
If you've always wanted to find out more about art but felt intimidated by the overeducated art world, then you've found the answer. Art For Dummies is the book that will have you and everyone you know clamoring outside the doors of your local museum. Thomas Hoving, former director of New York's Metropolitan Museum of Art, is credited with revolutionizing the Met, doubling its size during his tenure, and bringing art to the masses. Let him bring art to you as well,
In Art For Dummies, Thomas Hoving provides a how-to guide to the art world. First, he guides you through an introduction to art appreciation, pointing out the details that you've always noticed but have never been able to explain. Next, Hoving takes you on a ride through art history. (Have you ever regretted not taking those art history classes in school With Art For Dummies, you'll feel all caught up and ready to spar with the local intellectuals.) Hoving even includes a guide to the world?s top art cities and centers, a listing that can help you prepare for your next artistic voyage. With this guide, you can discover where to go in order to see the greatest works of art, and you can also find out about hidden treasures in nearby art museums.
You also get a great start for seeking out art with Hoving's lists of the greatest works of Western civilization, the most interesting artists, and the contemporary artists to watch. Don't wait another day to introduce yourself to the art world!
Related Products
American Children
Photographs from the Collection of The Museum of Modern Art
SOLD OUT