Land Marks
$25.95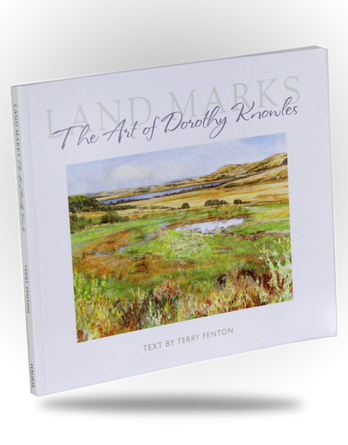 Featuring Saskatchewan Artist(s): Dorothy Knowles
2008, paperback, 128 pages, written by Terry Fenton
Published by Hagios Press, Regina
A retrospective of the life and work of distinguished Saskatchewan painter Dorothy Knowles.
Dorothy Knowles is one of the most noted living Canadian landscape artists. Her work can be found in many public and private collections across the country. In 1987 Knowles was awarded the Order of Merit of Saskatchewan and in 2004 she received the Order of Canada. This book represents the first published retrospective of her life and work.

With over 40 colour images covering every aspect of her career as an artist, Land Marks charts the arc of this remarkable artist's life. Dorothy Knowles was born in Unity, Saskatchewan in 1927. She graduated from the University of Saskatchewan with a degree in Biology in 1948. In the summer of that same year, she attended the Emma Lake Summer school painting class and her life would never be the same. Since that time, she has grown in stature as one of the most important Canadian landscape painters since Emily Carr. Writing the text and selecting the images for the book is artist, curator and writer Terry Fenton, who has worked with Knowles for many years.
ISBN 978-0-9783440-2-3
Related Products
The Big Show
Andrew King's Show Prints: 1919-1958
$14.95
Our Towns
Saskatchewan Communities from Abbey to Zenon Park
$95.00
The Vaults
Art from the MacKenzie Art Gallery and the U of R Collections
$35.95