Life in the Canopy
$17.95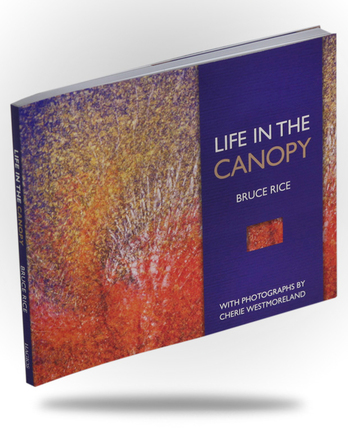 Featuring Saskatchewan Artist(s): Cherie Westmoreland
2009, paperback, 144 pages, written by Bruce Rice
Published by Hagios Press, Regina
A Book of the Year finalist at the 2009 Saskatchewan Book Awards, Bruce Rice's third book of poetry provokes questions about place and connection.
The "canopy" in the title refers to the tree-lined streets of Rice's Regina neighbourhood, but through Rice's piercing specificity, we learn more about "place" in the first decade of a new century. Rice's poems speak eloquently of our connection to the natural world, including the forests and landscapes we have created within our cities. With a voice that speaks unflinchingly of its sources, Life in the Canopy is an exploration of the history and bones of a modest city in the center of the continent. With a profound authority and honesty, Rice examines how we live with each other and how the place we live in shapes our lives. What is a city? Is it more than its public realm; the trees, parks and lake, railways and neighbourhoods? Is it more than the slow unrolling of human experience and event? Here are insightful, moving poems that take on difficult ethical and aesthetic questions.

This book brings both poet and reader closer to a sense of what it means to live in our complex, beautiful, and unforgiving world. Cherie Westmoreland brings her remarkable vision to this book with several of her full coulour photographs adding a powerful dimension to the book.
Life in the Canopy won second prize in the Saskatchewan Writers' Guild John V. Hicks Manuscript competition in 2008.
ISBN 978-1-926710-00-6
NAC Item Number: B0037
Related Products