Songs to Kill a Wihtikow
$16.95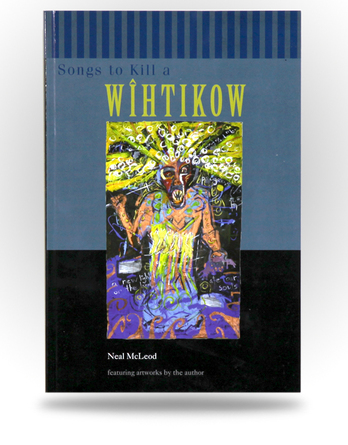 Featuring Saskatchewan Artist(s): Neal McLeod
2005, paperback, 102 pages, written by Neal McLeod
Published by Hagios Press, Regina
Writer and visual artist Neal McLeod's first book of poetry, winner of the 2006 National Aboriginal Poetry Award.
Songs to Kill a Wihtikow plunges the reader into a new way of speaking about history and the present. With wit and courage, McLeod enters new territory where storytelling becomes street-song and words live within the sorrows and exuberance of his people. Myth and the degradation of the body are brought forth in McLeod's written and visual images, yet this work is finally about the resiliency of the spirit against powerful internal and external forces.

McLeod is an accomplished visual artist and his paintings border on the visionary while presenting an uncompromising view of the harsh realities faced by Aboriginal people in the past as well as today. There is a radiance within these poems and paintings that places Neal McLeod at the forefront of artists of his generation.
ISBN 0-9735567-6-5
NAC Item Number: B0038
Related Products