Symbols in Civilizations
$6.95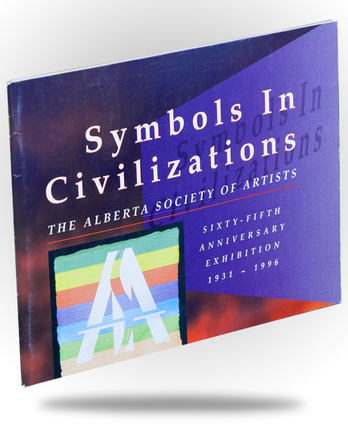 Symbols in Civilizations - Alberta Society of Artists 65th Anniversary Exhibition Catalogue 1931-1996.
Soft Cover - 8.5" x 11" - 56 pages - 1996 - published by the Alberta Society of Aritsts.
Used - Excellent Condition.
Included works by William Duma, Angela Grootelaar, D. Helen Mackie, Carole Bandaroff, and many others.
This exhibition commemorates the sixty-fifth anniversary of the establishment of The Alberta Society of Artists. It also celebrates the fiftieth anniversary of Alberta's Cultural Development Act, the first of its kind in North America. The exhibition shows the symbol-making impulses of human beings throughout history. The two and three dimensional works are all in some way human efforts in symbolic gesture. Each work is accompanied by a brief statement of the significance of its symbolic expression.
---
Images of used items in the NACstore are always photographs of the actual item being offered.
Related Products