Saskatchewan Artist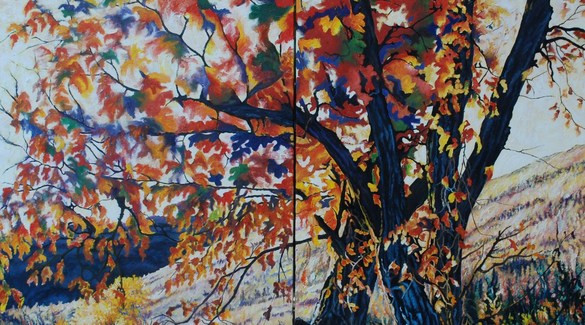 Autumn Majesty - by Val Moker
Val Moker
Val Moker was born in 1954 in Yorkton, Saskatchewan. She studied at Saskatoon's University of Saskatchewan, earning a Bachelor of Education (1977) and a Bachelor of Arts (1982). Moker has taught in a variety of environments, including through the school divisions of Regina and in workshops and classes for the Mendel Art Gallery (Saskatoon), Elegant Framing Plus (Regina), Prince Albert School Division, and the City of Regina.

Moker's artistic practice is motivated by her curiosity about the the small, human moments she has been observing since childhood: "I grew up on a farm, close to the earth, and sought every occasion after the work was done to take solitary walks and seize the ravishing beauty of nature. Weekly trips to the city would allow me to break away from the toils of the country, granting me the privilege of observing people in a variety of settings where I would imagine the different backgrounds & cultures that brought these common folk to that place in time. The longing to explore humanity continues to stimulate my creative palette. From the beginning, the driving force to paint was my need to have these split second emotions of the moment, made indelible."

Moker's oil, watercolour, and acrylic works have been shown in Canada and the United States at art shows and competitions and in galleries. She has received numerous awards for her work, including the Best New Artist Award at the Western Art Show & Auction at the Calgary Exhibition & Stampede in 1999 and the Peoples' Choice Award at the Canadian Portrait Academy's 5th Annual Exhibition in 2003. Moker's paintings have also appeared in publications including Cowboys & Indians Magazine and Best of Worldwide Oil. Her work is in the collection of Shurniak Gallery in Assiniboia, Saskatchewan.

Moker is a member of the Saskatchewan Craft Council.

Moker lives in Regina, Saskatchewan.
Val Moker
Born:

1954. Yorkton, SK

Resides:

Regina, SK

Mediums:

Oil Painting, Watercolour
Connect With Us