Saskatchewan Artist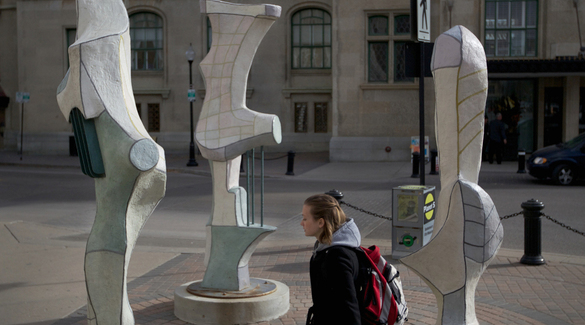 Musicians - 1999 - by Alicia Popoff & Leslie Potter
Alicia Popoff
Alicia Popoff was born in 1950 in Saskatoon, Saskatchewan. She studied art at the University of Saskatchewan, receiving her Bachelor of Fine Arts in 1979 and her Master of Fine Arts in 1984. She later worked at the same institution as a lecturer in the Department of Art and Art History (1988-1989), and has long been a supporter of art education, teaching children's and adult art classes in schools and galleries throughout Saskatoon (1976-1987).

Popoff exhibited her work since about 1980, showing in solo and group exhibitions. She said that her work – abstract paintings constructed with inspiration from Popoff's interest in gardens and poetry and the works of Paul Klee and Joan Miro, among others – was "a personal map, an exploration: my meditation of the world around me from the tiniest particle unseen, to the impressive and infinite sky. My work is constructed from sounds such as the birds and the wind, tastes and smells like the crisp winter air."

Popoff's work is represented in many collections including Canada Council Art Bank (Ottawa), Dunlop Gallery (Regina), Kenderdine Gallery (Saskatoon), MacKenzie Art Gallery (Regina), Mendel Art Gallery (Saskatoon), Saskatchewan Arts Board, University of Winnipeg, Air Canada Collection, and Great Western Life.

Popoff lived and worked near Saskatoon, Saskatchewan with her husband, sculptor Leslie Potter. Alicia Popoff died in 2015, in Saskatoon.