Saskatchewan Artist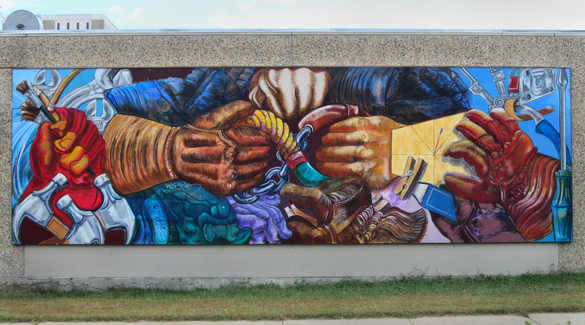 Untitled - Regina Union Centre mural - 2003 - by Crystal Howie
Crystal Howie
Crystal Howie was born in Indian Head, Saskatchewan, and was raised in Churchbridge. While attending the University of Regina, Howie spent her summers working in the potash mines near her hometown. She received her Bachelor of Fine Arts (majoring in drawing) in 2003, and then went on to study at Kyushu Women's University in Japan. Howie then worked as a scenic artist, illustrator, and prop maker in the UK, while also teaching drawing at York College and developing her own work.

In her work, Howie finds inspiration from the working-class communities in which she was raised, and credits her work in the mines with broadening her imagination.

Howie's first major public commission, from the Saskatchewan Centennial Workers' Celebration Committee, led to the creation of a large mural for the front of the Regina Union Centre in downtown Regina (2003). Another large-scale mural is in a unique location: underground. Howie returned to the area she grew up in to work with mine management and workers to conceive a mural based on Canada's National Day of Mourning, commemorating workers who have been injured or killed. The mural, located in the Mosaic mine in Esterhazy, was unveiled in 2009.

Howie's work has also been shown elsewhere in Canada and internationally. Recently, her installation work "Disquiet: Distilled" was exhibited at the MacKenzie Art Gallery (Regina, 2011).

Howie lives in Regina. She works as a set decorator and buyer in the film industry, in addition to continuing to develop her own artistic practice.