Saskatchewan Artist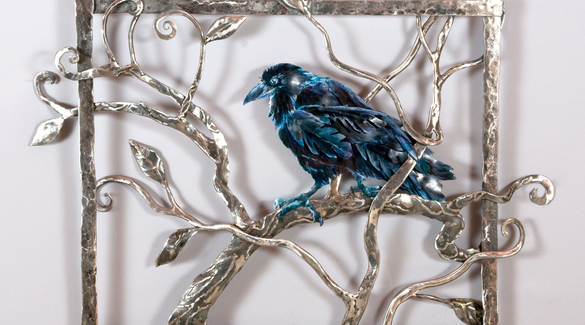 Iron Raven - 2010 - by Miranda Jones - photo by Trent Watts
Miranda Jones
Miranda Jones was born in 1955 in Waikerie, South Australia. She studied in Australia at Flinders University, where she received her Bachelor of Fine Arts in 1976, and La Trobe University, where she completed a Bachelor of Arts Honours in 1979. Jones was working as an interpreter for the Australian government when she decided to pursue creative work. She came to Canada in 1980, first living in Newfoundland and taking classes through Memorial University before moving to Saskatoon, Saskatchewan, and earning a Master of Fine Arts in 1989.

Jones works in a variety of media, including painting and metal work. She is perhaps best known for her gilding with real gold and silver leaf. Her work is heavily influenced by the Australian landscapes she grew up with, though she is drawn to Saskatchewan's beauty as well: "I have grown to love the subtle colour of the winter prairie, even though it took a long time, and I especially love the shark-free lakes and relative lack of poisonous species."

Jones's work has been exhibited in numerous solo and group exhibitions in Saskatchewan and in Newfoundland. In 2001, her work was part of a collaborate travelling exhibition called "Turned Multiples," which was shown in Pennsylvania and Tokyo, as well as Saskatoon. Her work is represented in collections including the Saskatchewan Arts Board (Regina), the provincial government of Newfoundland and Labrador, Memorial University (Newfoundland), and the City of Regina.

Miranda Jones lives in Saskatoon, Saskatchewan, where she continues to paint and to look forward to expanding her painted metal work.
Miranda Jones
Born:

1955. Waikerie, South Australia AU

Resides:

Saskatoon, SK

Mediums:

Oil Painting, Sculpture
Connect With Us