Saskatchewan Artist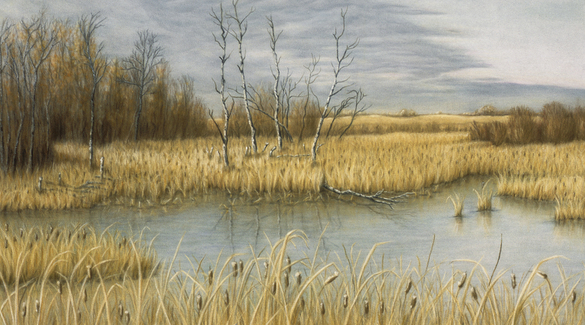 Cat Tails - 1996 - by Gord Sanjenko
Gord Sanjenko
Gord Sanjenko was born in 1953 in Prince Albert, Saskatchewan. A self-taught artist, Sanjenko began drawing pastel portraits of family and friends when he was a teenager. Over time Sanjenko moved more toward nature themes, working in oils, photography, and drawing.

Sanjenko's works have been exhibited at several Saskatchewan galleries, including Chapel Gallery in North Battleford at Magenta Gallery and SCYAP Gallery in Saskatoon. Sanjenko has also participated in numerous art competitions, winning first place awards in the Saskatoon Prairieland Exhibition Art Competition and first place awards and Best of Show at the Saskatchewan Wildlife Art Competition. Sanjenko's work was featured in SGI's calendar in 2006.

Gord Sanjenko is a member of Prairie River Artists and Art Quest. He currently resides in Saskatoon, Saskatchewan, where in addition to working on his own art, he operates a printing, photo reproduction, and restoration business.
Gord Sanjenko
Born:

1953. Prince Albert, SK

Resides:

Saskatoon, SK

Mediums:

Drawing, Oil Painting, Photography
Connect With Us