Saskatchewan Artist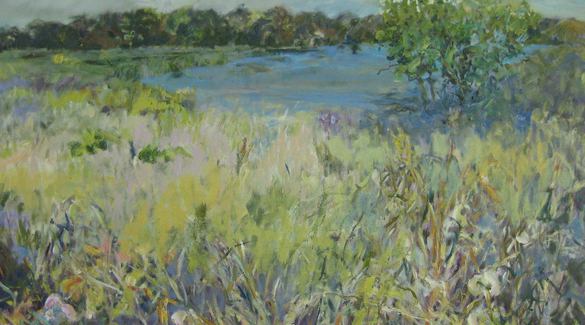 Across the Grass - by Jane Harington
Jane Harington
Jane Harington was born in 1956 in Port Stanley, Falkland Islands. She grew up in Zambia and Zimbabwe and studied in South Africa, where she received a Bachelor of Arts in English Literature from the University of Capetown in 1978. She worked in marketing and advertising in Zimbabwe, then lived in England, and in 1991, moved with her family to Canada. In Saskatoon, she took watercolour, drawing, and painting courses with local artists Paul Constable and Degen Lindner. She then studied at the University of Saskatchewan, receiving her Bachelor of Fine Arts in 2004.

Harington's interest in colour and light, reflected in her landscape paintings, is inspired by her African upbringing. Working in oils, Harington paints scenes from various seasons that include trees, flowers, water, meadows, and gardens. Her work has been shown in group and solo shows in Saskatoon and Prince Albert, and is included in private collections in Canada, the United States, Britain, and South Africa, as well as the collection of the University of Saskatchewan.

Harington is a member of CARFAC Saskatchewan and the St. George Ave. Artist Studio Group.

Jane Harington lives in Saskatoon.
Jane Harington
Born:

1956. Port Stanley, Port Stanley FK

Resides:

Saskatoon, SK

Mediums:

Oil Painting
Connect With Us