Saskatchewan Artist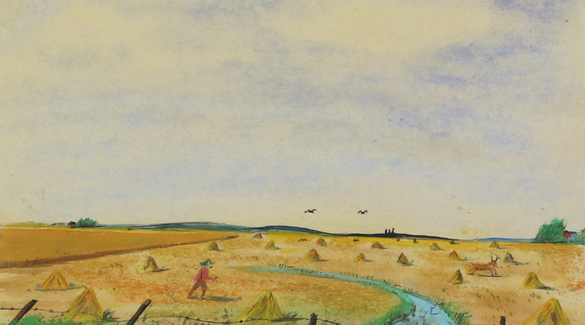 Untitled - chasing an antelope - by William McCargar
William McCargar
William McCargar was born in 1906 in Newcastle, Ontario, but grew up in Moose Jaw, Saskatchewan. He spent several decades working throughout small-town Saskatchewan as a station agent for Canadian Pacific Railway before he began painting in 1958. A self-taught artist, McCargar was advised by his neighbour, artist Kenneth Lochhead.

McCargar worked in a variety of media, including watercolour, oils, and pastels, and created miniatures and collages. He frequently used railway lines as a subject. McCargar began showing his work in 1958 and was part of many touring exhibitions across the province. He had a solo show in 1975 at Regina's Rosemont Art Gallery. In 1979, his work was featured in Artscanada magazine. A major posthumous retrospective exhibition was held at the Dunlop Art Gallery (Regina) in 1987.

McCargar's work is represented in collections including the Canadian Museum of Civilization (Hull, Quebec), Mendel Art Gallery (Saskatoon), Saskatchewan Arts Board, and the University of Saskatchewan.

William McCargar died in Regina in 1980.
William McCargar
Born:

1906. Newcastle, ON

Died:

1980. Regina, SK

Mediums:

Collage, Drawing, Oil Painting, Pastels, Watercolour
Connect With Us