Saskatchewan Artist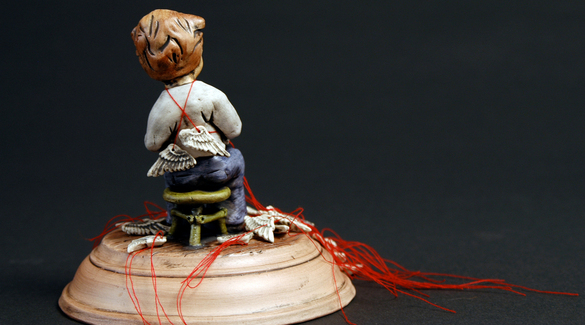 Faking it as best he could - 2010 - by Carole Epp
Carole Epp
Carole Epp was born in 1978 and studied ceramics and art history at the University of Regina with Ruth Chambers, Jack Sures, and Rory MacDonald, receiving her Bachelor of Fine Arts in 2001. She later attended Grant McEwan College in Edmonton, Alberta (2002) before her studies at the Australian National University in Canberra, Australia, where she received her Masters of Arts in 2005. She is currently based in Saskatoon.

Epp has taught ceramics through classes and workshops in Saskatchewan, Alberta, and Australia, and has worked for several galleries and arts organizations, including the Saskatchewan Craft Council, AKA Gallery (Saskatoon) and Rosemont Art Gallery (Regina). She has been involved with arts organizations including the University of Regina's Ceramics Students Society, SASKTERRA, CARFAC Alberta, and the Saskatoon Potters' Guild. Epp has participated in artist residencies in Medicine Hat, Alberta (2010) and Honolulu, Hawaii (2004).

Epp creates both functional and sculptural ceramic works. Her sculptural works explore themes of consumer culture, morality, war, poverty, and environmental degradation. Recent works include a series of figurines that subverts familiar kitschy childhood imagery with scenes of devastation and terror. Epp explains, "I wanted to both entice and repel; and inspire a desire to consume alongside an awareness of the consequences of that consumption."

Epp's work has been exhibited in Canada, the United States, Scotland, and Australia and is represented in private collections as well as those of the Saskatchewan Arts Board and the Australian National University.

Carole Epp lives and works in Saskatoon, Saskatchewan. She is editor of the ceramic arts blog Musing About Mud.
Carole Epp
Born:

1978. Regina, SK

Resides:

Saskatoon, SK

Mediums:

Ceramics
Connect With Us