Saskatchewan Artist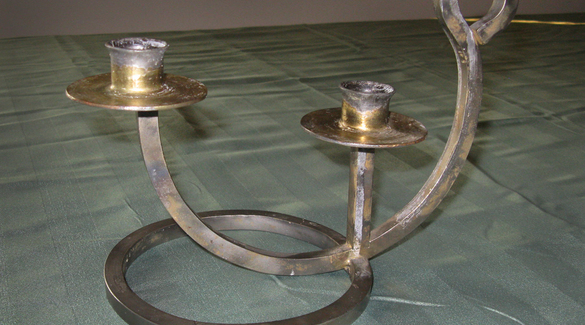 William Schmidt
William (Bill) Schmidt was born to William and Helen Schmidt at Lipton, Saskatchewan in 1946. His father died when he was young, after which Schmidt moved with his mother and sister to Regina, where he completed his high school education.

Although he became a sheet metal worker by trade, bees and their complex routines always fascinated him. This eventually developed into him raising bees for honey in his backyard in Regina and then experimenting with making candles from their wax.

Although he had to give up raising bees when he had serious allergic reactions to stings, he continued to experiment with making hand-dipped candles. He found a steady supply of beeswax from honey producing farms in the Prince Albert - Christopher Lake - Nipawin area, for which he made an annual trip.

For many years, he traditionally gave his candles as gifts, and through friends delighted with his hand-dipped candles, he was introduced to a store in Regina, firmly establishing himself as a artisanal candle maker. From then on, he sold his candles commercially at gift and craft stores like the Mackenzie Art Gallery Gift Shop. By 1981, he was selling them at five or six craft sales held throughout the province each year.

He was very successful at this and eventually, using the skills he'd learned in his metalworking trade, which he'd given up many years before, he began creating artistic metal candleholders of all varieties. Making candles and candleholders became full-time work, eventually developing into a thriving cottage industry he called Honey Comb Crafts, and his wares can be found in homes and outlets across the country.

In 2000 William Schmidt was diagnosed with ALS (also known as Lou Gehrig's Disease), and succumbed to this disease in 2006.
William Schmidt
Born:

1946. Lipton, SK

Died:

2006. Regina, SK

Mediums:

Sculpture
Connect With Us