Saskatchewan Artist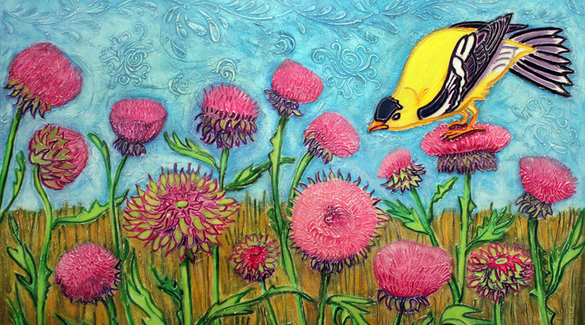 Goldfinch in Thistle - 2012 - by Gerri Ann Siwek
Gerri Ann Siwek
Gerri Ann Siwek was born in Hamiltion, Ontario in 1951. She attended the Ontario College of Art in Toronto (1971-1973) and the Arts Students League in New York City (1976-1977). Siwek moved to Regina, Saskatchewan in 1980, and studied Adult Education at the University of Regina from 1981 to 1982. In 2008, Siwek participated in two encaustic workshops in Santa Fe, New Mexico.

Siwek has worked as an arts educator and graphic designer while pursuing her own artwork, which involves a variety of media, including drawing, collage, installation, and encaustic. She has found inspiration in the work of Paul Klee, Jean Dubuffet, Philip Taaffe, and Polly Apfelbaum, among others.

Siwek's lifelong interest in the paranormal, carnivals, and "other worldly" themes influenced her early work, which included painted images of aliens, Bigfoot, Elvis, and the Virgin Mary. In 1998, Siwek created a traveling art exhibit, the "Funomena Museum of the Weird and Strange," which toured festivals in Canada and the United States until 2005. Siwek's more recent work incorporates images of birds, animals, and insects. She has exhibited throughout North America, and her works are part of several private and public collections.

Siwek has served as a visiting artist and arts educator in Verona, Italy (2007) and has been the Saskatchewan Arts Board artist-in-residence at Regina's Agribition (2007, 2008, 2009) and at Ecole Connaught Community School (2011). Siwek has also taught classes and led workshops in Mexico, Ontario, and throughout Saskatchewan.

Gerri Ann Siwek lives in Regina, Saskatchewan.
Gerri Ann Siwek
Born:

1951. Hamilton, ON

Resides:

Regina, SK

Mediums:

Acrylic, Collage, Encaustic, Mixed Media

Galleries: Mata Gallery (Regina)
Connect With Us