Saskatchewan Artist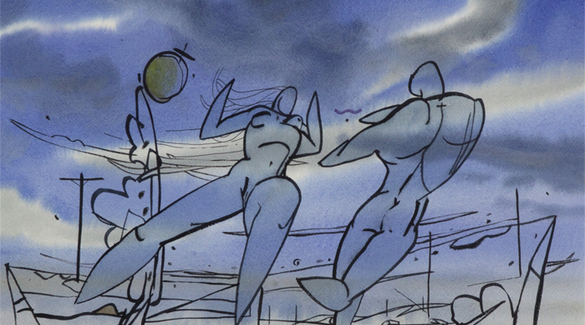 Untitled - athletic figures - 1982 - by Denis Nokony
Denis Nokony
Denis Nokony was born in 1951 in Oxbow, Saskatchewan, and became interested in drawing and caricature at an early age. He studied political science at the University of Saskatchewan, receiving his Bachelor of Arts in 1972. During his time at the University of Saskatchewan, Nokony took a drawing class with Reta Cowley. It was his only drawing course, and Nokony considers himself to be a self-taught artist.

In 1973, Nokony worked as a commercial artist and freelance illustrator in Vancouver, before receiving Canada Council grants in 1973 and 1974 that allowed him to travel to the Maritimes to paint. The following year, he went to Winnipeg, where he earned a certificate in Education from the University of Manitoba, and spent the following year teaching art there.

Nokony's first solo exhibition at Saskatoon's Millard Gallery in 1977, and since then his work has been shown in galleries across Canada. Nokony's prairie upbringing is an influence on his drawings and paintings; he remembers attending church in Kindersley, Saskatchewan and finding "very extraordinary and very beautiful things to contemplate." Of Nokony's 1981 exhibition at the Mendel Art Gallery (Saskatoon) entitled, "Figure in Landscape: Drawings by Denis Nokony," Robert Enright wrote, "The drawings present a synthetic relationship between the figure and the landscape, between being and space, and between quotidian observation and dramatic realism. Mr. Nokony is involved in a process that is both a retrieval and a reinterpretation of prairie space through its human dimensions."

In 1982, Nokony created the short animated film "The Giant" for the National Film Board.

In 1988, Denis Nokony was hired as Burnaby, British Columbia's arts development officer, and is now the city's assistant director for cultural services. In 2004, his work was part of "Climate Controlled," an exhibition of works from Saskatoon's Kenderdine Art Gallery's permanent collection.
Note that there is work by Denis Nokony available for purchase in the NACmarket.
Denis Nokony
Born:

1951. Oxbow, SK

Resides:

Burnaby, BC

Mediums:

Drawing, Watercolour
Connect With Us