Saskatchewan Artist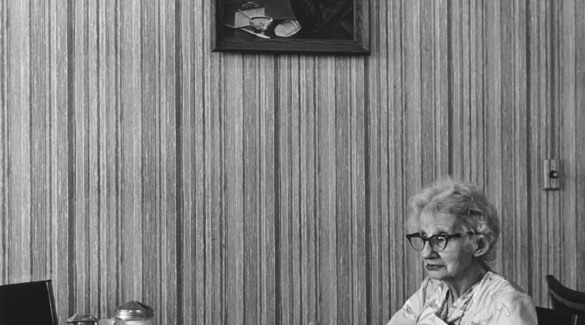 Thankfulness - 1984 - by Thelma Pepper
Thelma Pepper
Thelma Pepper was born in 1920 in Kingston, Nova Scotia. She grew up around photography, as both her father and grandfather were amateur photographers, but Pepper pursued science for many years. She studied biology at Acadia University in Wolfville, Nova Scotia, completing a Bachelor of Science and later, a Master of Science at McGill University in Montreal. She then moved to Saskatoon, Saskatchewan with her husband, also a scientist.

Pepper turned to photography later in life: in 1980, at the age of 60. From then on she was an active photographer, holding her first solo exhibition in 1986 and showing her work across Canada. Pepper's work focuses on spirit, community, and little-known stories. As one example, her exhibition "Decades of Voices: Saskatchewan Pioneer Women," toured nationally by The Photographers Gallery (Saskatoon, 1990-1993), incorporated portraits and interviews of pioneer women, with Pepper attempting to reveal the contributions of the women who were often the backbone of early settler communities.

One body of work "Untie the Spirit" documents life in Sherbrooke Community Centre, a long-term care facility in Saskatoon. Patricia Roe writes: "Where others might see sorrow and despair, Thelma sees the spirit of the person and captures that spirit with her camera....Thelma tells a person's story through her photographs, and through her actions she is helping to create a revolution in the care of our elders." The NFB film "A Year At Sherbrooke" follows Pepper and fellow artist Jeff Nachtigall's activities with the residents of the centre (2008).
In 2012, Pepper released a book of her portraits, Human Touch: Portraits of Strength, Courage & Dignity, to rave reviews.

Thelma Pepper died in December, 2020 in Saskatoon, Saskatchewan at the age of 100.
Thelma Pepper
Born:

1920. Kingston, NS

Died:

2020. Saskatoon, SK

Mediums:

Photography
Connect With Us