Saskatchewan Artist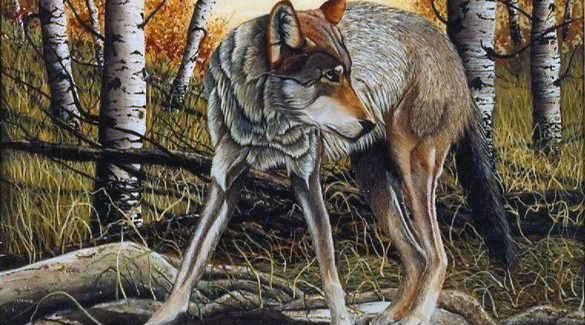 Autumn Beauty - 2003 - by Brenda Angelstad
Brenda Angelstad
Brenda Angelstad was born in 1951 in Weyburn, Saskatchewan. She received a Bachelor of Science degree in Zoology and later went on to obtain a Master Degree in Audiology at the Minot State College in 1976. Angelstad went on to further her career by becoming a member of the Saskatchewan Hearing Aid Plan in Saskatoon, becoming manager of the department in 1986, and she now manages the Hearing and Health Sciences department in the Saskatoon Health Region.

Angelstad's artistic medium is primarily watercolour. She started in ceramics and oil painting, but took a beginners class in watercolour in 1999, and has continued to paint with watercolour ever since. Her art work is primarily of wildlife because she wants to share her love of nature with the public: "I have a great love for wildlife and nature in general and try to impart this love to the public through my paintings in the hope that they will see the need to preserve what we have for future generations to enjoy, and indeed, for the world to sustain itself." Angelstad uses an unusual technique combining watercolour and gouache, and because of her strong passion for nature her paintings can be noted for their realistic qualities, including a precise rendering of patterns in the animal's hair tracts.

Angelstad's work is in many private collections as well as the permanent collection of the Saskatoon Prairieland Exhibition.

Angelstad is a member of Artists for Conservation, Regina Federation of Artists, and the Saskatchewan Wildlife Artist Association.

Angelstad has won numerous awards at the Reflections of Nature Wildlife Art Show held annually by the Saskatchewan Wildlife Artists Association, such as the Best of Show in Open Division in Painting (2007) and Best of Show in Open Division in Photography (2010).

Angelstad currently lives in Regina, Saskatchewan.
Brenda Angelstad
Born:

1951. Weyburn, SK

Resides:

Regina, SK

Mediums:

Watercolour
Connect With Us