Saskatchewan Artist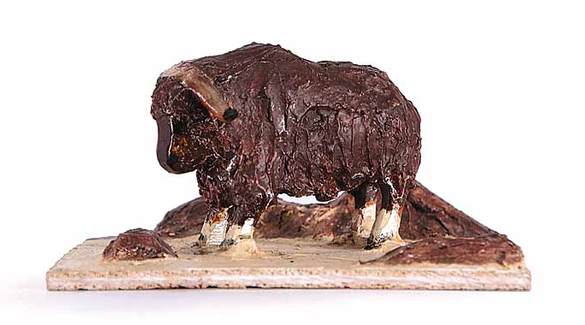 Untitled - Muskox - by Fred Moulding
Fred Moulding
Fred Moulding was born in 1894 in Yorkshire, England. He came to Canada in 1912 and settled near Regina, Saskatchewan. There, Moulding farmed, struggling through the Depression and other difficult times while raising his family. It was not until Moulding was in his 60s that he began carving wood.

A self-taught carver, Moulding hoped to leave a material legacy of his farming life for future generations. Most of his carvings were related to his life on the farm, and his ability to remember objects in great detail allowed him to create realistic replicas of farm implements. Moulding carved grain wagons, ploughs, butchering equipment, butter churns, and water pumps, along with animals and birds frequently seen in the area.

Moulding showed his work at local fairs and exhibited in many Saskatchewan venues, including the Susan Whitney Gallery (Regina), the Dunlop Art Gallery (Regina), and the Mendel Art Gallery (Saskatoon). His work is part of several private collections, as well as the collections of the Canada Council Art Bank (Ottawa), Mendel Art Gallery (Saskatoon), MacKenzie Art Gallery (Regina), Saskatchewan Arts Board, the University of Saskatchewan, the Western Development Museum's Heritage Farm and Village (North Battleford), and the Canadian Museum of Civilization (Hull, Quebec).

Fred Moulding died in 1993, in Regina.
Fred Moulding
Born:

1894. West Yorkshire, England GB

Died:

1993. Regina, SK

Mediums:

Sculpture, Wood Carving
Connect With Us