Saskatchewan Artist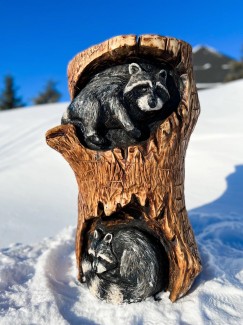 Raccoon Stump - 2020 - by Michelle Thevenot
Michelle Thevenot
Michelle Thevenot was born in 1987 in Prince Albert, Saskatchewan, and built a strong connection to the forests, lakes, rivers and animals of the surrounding area. Thevenot developed her art skills through classes in high school and at the University of Saskatchewan, in Saskatoon. In 2010, she received a Bachelor of Education with a major in Arts Education.

Early in her career, Thevenot worked primary in acrylics, graphite, and pencil, creating landscapes, cityscapes, the human figure, and plant life. More recently, Thevenot has concentrated on wood carving, mixed media sculpture and textile arts.

Michelle Thevenot currently lives near Osler, Saskatchewan.
Michelle Thevenot
Born:

1987. Prince Albert, SK

Mediums:

Acrylic, Drawing, Pastels, Watercolour, Wood Carving

Website: www.michellethevenot.com
Connect With Us