Saskatchewan Artist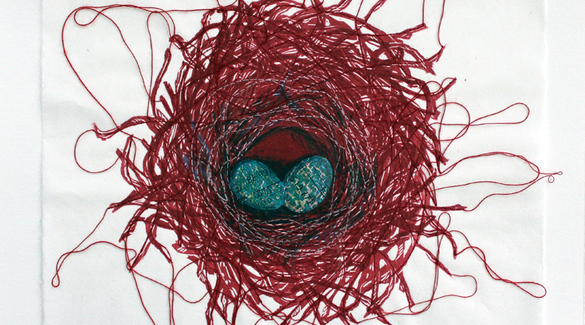 Nest Eggs 2 - 2011 - by Monique Martin
Monique Martin
Monique Martin was born in 1966 in Saskatoon, Saskatchewan. She studied there at the University of Saskatchewan, receiving her Bachelor of Education in Fine Arts in 1993.

In addition to teaching art in Saskatoon, Martin has lectured at workshops and conferences in numerous countries and has served as Artist in Residence in a number of cities, including Coaticook, Quebec (2001), Wynyard, Australia (2003), Mount Vernon, Virginia (2004), Vallauris and Nice, France (2006), Spalding, UK (2008), and Ottawa, Ontario (2010). In 2012, Martin is the Artist in Residence for the Saskatchewan Children's Festival.

Martin works in a variety of mediums, including sculpture, printmaking, oil painting, and pastels. Inspired by everyday incidents, images found while traveling, and the work of other artists, Martin researches her subjects and concepts before beginning a new work. She has exhibited throughout Canada and in Australia, England, France, and the United States in solo and group exhibitions. Her work is represented in numerous collections, including those of the Australian High Commission, City of Ottawa, the Canadian Consulate in Nice, France, Musée Beaulne (Quebec), and Istanbul Metropolitan Municipality.

Martin has been involved with CARFAC, the Saskatchewan Craft Council, the Saskatoon Sculptors' Association, the Saskatoon Printmakers' Association, and both the Canadian and International organizations of the Society for Education Through Art.

Martin has won and been nominated for numerous awards and distinctions and has received a Prime Minister's Award for Teaching Excellence (2009) a Humanitarian Award from the Human Rights Commission of Saskatchewan (2010), and the Governor General's Award for Excellence in Teaching Canadian History (2007). In 2005, she was nominated for the YWCA Women of Distinction Award and a Lieutenant Governor's Arts Award. Martin was the recipient of a National Teaching Award in 2000 and 2001.

Monique Martin lives in Saskatoon and teaches at Georges Vanier Catholic School, a designated Fine Arts School.
Monique Martin
Born:

1966. Saskatoon, SK

Resides:

Saskatoon, SK

Mediums:

Acrylic, Ceramics, Drawing, Installations, Oil Painting, Photography, Printmaking, Sculpture

Website: www.moniqueart.com
Galleries: Rouge Gallery (Saskatoon)
Connect With Us