Saskatchewan Artist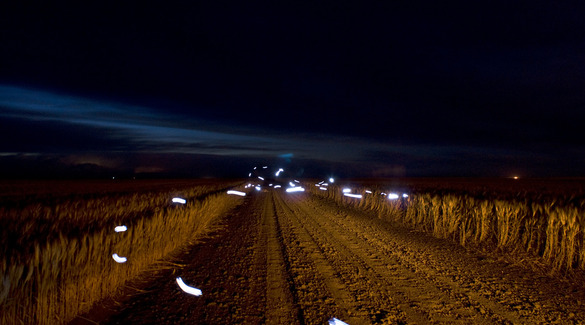 Light Tracks - 2011 - by Gabriela Garcia-Luna
Gabriela Garcia-Luna
Gabriela Garcia-Luna was born in 1963 in Mexico City. She studied graphic design there at the Universidad Autónoma Metropolitana, completing her Bachelor's degree in 1986. Garcia-Luna continued to study photographic techniques and work with various artists in Mexico City in addition to her own self-directed studies in India (2000, 2002-2003, 2009-2012). She also completed artist residencies at the Banff Centre (2003), La Chambre Blanche (Quebec City, 2007), and at the Kenderdine Campus of the University of Saskatchewan (Emma Lake, 2008). Since 2009, Garcia-Luna has worked independently as an artist in Saskatoon and Moose Jaw, Saskatchewan.
Garcia-Luna's art includes installations and photography-based work. In her work, she attempts to "show the seen and reveal the unseen, as a way to reveal meaning — as in the act of creating and in the act of contemplating."
Garcia-Luna has exhibited in Canada and in Mexico. Most recently, her work was part of the "Mind the Gap!" touring exhibition, shown at Regina's Dunlop Art Gallery and the Art Gallery of Ottawa (2010-2012), and her solo exhibition "New Territories" exhibited at Mysteria Gallery in Regina and the Illingworth Kerr Gallery in Calgary (2012). Garcia-Luna's work is represented in collections including OMNILIFE and the Government of the State of Querétaro, Mexico.
Garcia-Luna has received residency grants and other awards from the Banff Centre, the National Foundation for Culture and Art Fellowship (Mexico), the Saskatchewan Arts Board, and the Conseil des Arts et Lettres du Quebec. She has won First Prize in Photography in the Guadalajara Omnilife Grand Prize (2001) and the Querétaro Libertad Art Contest (2002)
Gabriela Garcia-Luna lives in Moose Jaw, Saskatchewan.