Saskatchewan Artist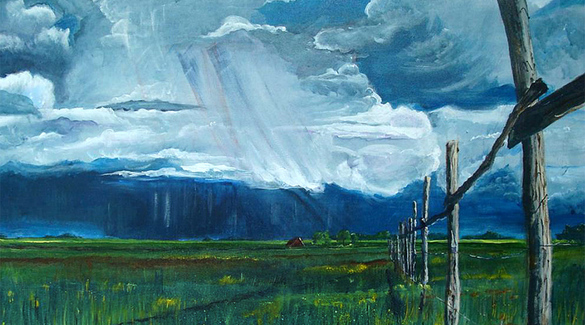 Storm Line - by Jim Toth
Jim Toth
Jim Toth was born in 1937 in Regina, Saskatchewan. He earned both a Bachelor of Arts and a Bachelor of Education at the University of Saskatchewan before completing a post-graduate diploma in Educational Administration from the University of Regina and a Master of Divinity from Carey College at the University of British Columbia.
Toth's artistic education has continued over the years through classes, workshops, and other experiences with artists including Jack Reid, Jim Wilcox, Bryan Atyeo, Elaine Seis, Donna Kriekle, Michael Lonechild, Huang Zhong Yang and Johannes Vloothuis, and Toth received three years of personal tutoring from Agnes Almar.
Working in oils, acrylics, watercolours, and pastels, Toth's subject matter includes florals and landscapes and is inspired by his world travels.
Toth's paintings have been part of several shows and sales of the Prairie Artists' Guild, and can be found in many private collections throughout Canada.
Jim Toth lives and paints in Regina, Saskatchewan.
Jim Toth
Born:

1937. Regina, SK

Resides:

Regina, SK

Mediums:

Acrylic, Oil Painting, Pastels, Watercolour

Website: www.watercolourmagic.ca
Connect With Us