Saskatchewan Artist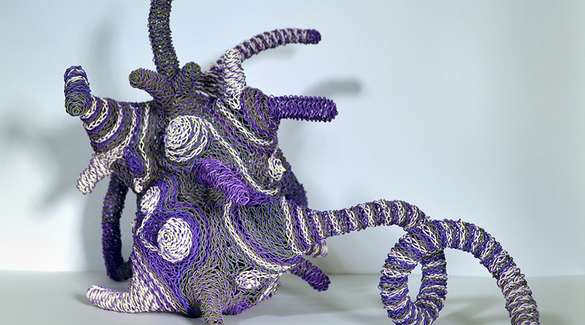 Things 1 - 2012 - by Twyla Exner
Twyla Exner
Twyla Exner was born in 1982 in Regina, Saskatchewan. She studied at the University of Regina, receiving her Bachelor of Fine Arts in Sculpture in 2004. She went on to complete a Master of Fine Arts in Studio Arts from Concordia University in 2010. Exner has given lectures and led workshops at galleries in Saskatchewan, British Columbia, Yukon Territory, and Quebec.
Exner works in numerous mediums, including drawing, sculpture, ceramics, and installation. Inspired by technology and electronics, she creates "hands-on, labour-intensive" sculpture using electronic components like wires and circuits, and detailed drawings that connote themes of invention and the intersection of technology and biology. "I'm interested in the way in which we've absorbed technology into the fabric of society, into our bodies," Exner has said in a 2008 interview.
Of Exner's 2010 exhibition with Organization of Saskatchewan Arts Councils, Amy Gogarty writes: "[Exner] challenges us to question the seemingly monolithic structures of technological dominance, to reclaim and redirect these structures so that they serve us in ways that incorporate historical and cultural values, integrating them into a sustainable whole."
Exner's work has been exhibited across Canada. In 2013-2014, her work is part of the Organization of Saskatchewan Arts Councils' touring show, "Creative Play: Saskatchewan Arts Board 65th Anniversary Exhibition." Her work is a part of private collections as well as the collection of the Saskatchewan Arts Board.
Exner has received grants from the Saskatchewan Arts Board (2006, 2009, 2011, 2012). She is a member of CARFAC.
Twyla Exner lives and works in Prince Albert, Saskatchewan.
Twyla Exner
Born:

1982. Regina, SK

Resides:

Prince Albert, SK

Mediums:

Ceramics, Drawing, Installations, Sculpture, Textiles

Website: www.twylaexner.com
Connect With Us