Saskatchewan Artist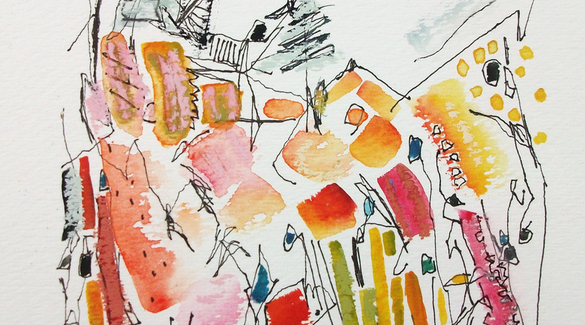 Whimsy - 2012 - by Anne McElroy
Anne McElroy
Anne McElroy was born in Brantford, Ontario in 1947. She first attended Queen's University in Kingston, Ontario and received BA and MA degrees in Psychology, Sociology and Mathematics. She then attended University of Saskatchewan (Saskatoon), studying with such noted artists as Otto Rogers, Mina Forsyth, Stan Day and Warren Peterson, completing an MFA degree in 1988. She has since continued her art practice in Saskatoon, while teaching art through much of the 1990s at the University of Saskatchewan and with the Organization of Saskatchewan Arts Councils (OASC).
An admirer of the work of Canadian artist David Milne, McElroy's work makes similar use of colour and draftsmanship. Of her own work, McElroy says "I am reminded through my work that I am an emotive artist, gestural and spontaneous, though conscious and respectful of form and structure. Colour is expressive and intuitive. Brushstroke is fresh. I seek simplicity."
McElroy's work has been exhibited at the Assiniboia Gallery (Regina), the Darrell Bell Gallery (Saskatoon), the Rouge Gallery (Saskatoon), the Art Gallery of Regina, and the Prairie Star Gallery (Saskatoon). It can also be found in the permanent collections of the Canada Council Art Bank (Ottawa), IBM Canada (Toronto), the University of Saskatchewan, and the Saskatchewan Arts Board.
Anne McElroy continues to live and work in Saskatoon, Saskatchewan, and in 2013 completed the illustrated children's book "My ABC Book - Wild Creatures, Weird Facts".
Anne McElroy
Born:

1947. Brantford, ON

Resides:

Saskatoon, SK

Mediums:

Acrylic, Drawing, Jewelry, Oil Painting, Watercolour

Website: www.annemcelroy.finetuning.ca
Connect With Us