Saskatchewan Artist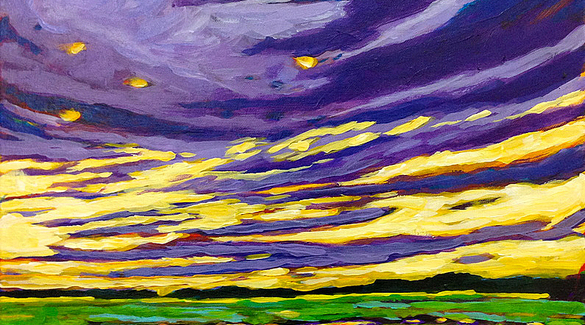 Transitions - 2013 - by Chris Wikman
Chris Wikman
Chris Wikman was born in Regina, Saskatchewan, in 1973. While growing up and watching his father make pottery and pursue other interests in arts, Chris became fascinated with the process of art making. He started painting in 1995 in his spare time, and in 2005 he transitioned to being a full time painter.

While being a stay at home single father of five adopted children, Wikman works out of his home (which was formerly a church) in Indian Head, Saskatchewan.

Wikman's work is based mostly on his experiences and his reflections of places he has been with his family. In recent years, his work has often focussed on overlooked parts of the landscape -- sloughs, flooded ditches, a lone bluff of trees along the highway -- as Wikman tries to bring beauty to that which we normally disregard.

Wikman is a self taught painter whose main focus is on landscape and portraiture, working in both acrylic and oils. His work is influenced by The Fauvists, Vincent Van Gogh, The Group of Seven and Canadian contemporaries such as Greg Hardy.

Wikman has had several solo shows, such as at the PaSiG Designs Art Gallery in Brandon, Manitoba, and at Gallery Lacosse, in Winnipeg, Manitoba. His work is in both private and corporate collections throughout Canada.

Chris Wikman continues to live and work in Indian Head, Saskatchewan.
Chris Wikman
Born:

1973. Regina, SK

Resides:

Indian Head, SK

Mediums:

Acrylic, Oil Painting

Website: www.chriswikman.com
Connect With Us