Saskatchewan Artist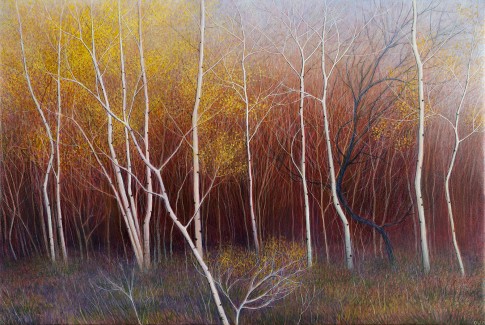 Delicate Beauty - 24 x 36 inches, 2013
Debbie Wozniak-Bonk
Debbie Wozniak-Bonk was born in 1974 in the farming community of Corning, Saskatchewan. She graduated from the University of Regina with a Bachelor of Arts degree, majoring in painting in 1996. Since then, she has had a successful painting career with many solo exhibitions, including at Regina's McIntyre Gallery throughout the 2000s and the Assiniboia Gallery, also in Regina, since 2017.
Wozniak-Bonk's work often depicts the southern Saskatchewan landscape with tones of nostalgia and mystery.
Debbie Wozniak-Bonk has been an art instructor, and is a featured artist in the CITYTV documentary series Making It In Saskatchewan. She continues to live, work, and teach in Regina, Saskatchewan.