Saskatchewan Artist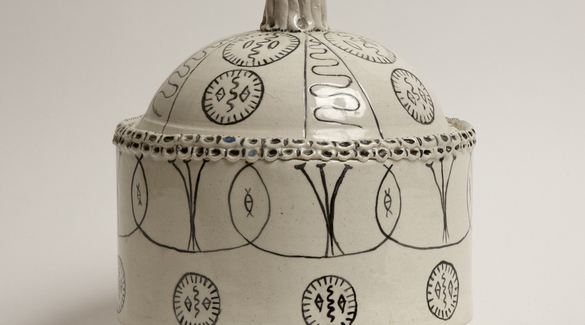 Untitled - Ceramic container with lid - by Maria Gakovic
Maria Gakovic
Maria Gakovic was born in 1913 in Osijek, Yugoslavia. After considerable hardship there, she came with her husband to Canada, settling in Regina, Saskatchewan in 1952. Gakovic studied at the University of Regina, receiving her Bachelor of Arts in 1974, her Bachelor of Fine Arts in 1976, and her Master of Fine Arts in 1985. During this time, she was able to study with artists such as Ted Godwin, Arthur McKay, and Jack Sures. With the depth of her experience and education, Gakovic went on to teach at elementary schools in Regina as well as through the MacKenzie Art Gallery and the Regina University Women's Club.

Gakovic's artworks in watercolour, oils, acrylics, and clay were exhibited in group and solo exhibitions in Saskatchewan beginning in the 1970s, and were also part of an exhibition at the National Museum of Natural Sciences in Ottawa in 1986. Of her painting, James Kurtz wrote, "Her prairie landscapes render the austerity and beauty of the vast expanses of land dominated by an enormous sky. Her garden landscapes attest to her love for colour and dynamic forms. Maria's paintings are formally driven, accentuating vertical thrust. Freely applicated to the canvas surface, her brush creates glittering transparencies, intermingled with a lush array of solid colors, thus communicating enthusiasm for her immediate environment."

Gakovic's work is a part of numerous private collections in Canada, the United States, Japan, and Yugoslavia as well as the collections of the Saskatchewan Arts Board, the University of Regina, Government of Saskatchewan, and SaskTel.

In 1996, Regina's Rosemont Art Gallery exhibited a show of Gakovic's landscape paintings called "The Passion of Maria: Landscapes of Urban and Rural Saskatchewan."

Maria Gakovic passed away in 1999.
Maria Gakovic
Born:

1913. Osijek, Osijek-Baranja HR

Died:

1999. Regina, SK

Mediums:

Oil Painting, Sculpture, Watercolour
Connect With Us