NAC Articles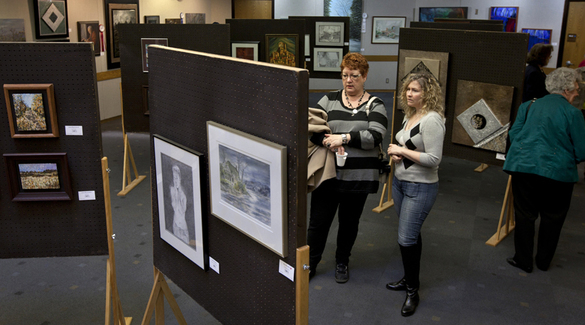 Regina Federation of Artists - Spring Show 2012
"It really is a community of artists. It's kind of like a family."

When Margaret Delainey talks about her experiences as a member of an artist guild, she's effusive. Delainey has been a member of the Prairie Artists' Guild for a decade, after retiring from a career in education and deciding to pursue a lifelong interest in painting. She soon found that her new "family" provided a place to develop her painting skills and grow in a supportive environment, while also giving her the opportunity to show and sell her work. Delainey isn't alone: throughout Saskatchewan, guilds give artists a community in which to learn, network, and showcase their art.

It's not surprising that artists would seek communities like these. Art-making is often a solitary activity, but working in isolation can be difficult. And while classes and workshops provide a chance to connect with other artists, many find themselves looking for something more consistent and long-lasting.

Loosely defined, an artist guild is an association of artists who join together for activities related to creating, promoting, and selling art. These might include meeting to work together, organizing workshops or critiquing sessions to improve techniques, hosting shows to display and sell members' art, and building professional and charitable partnerships with galleries and community organizations. Guild membership may also provide other benefits, like discounts on art supplies through certain retailers and access to resource libraries of books and DVDs. While some guilds accept members who work in many different mediums, other guilds are focused on a specific art form, like wood-turning, quilting, or pottery.

As Carol Ward of the Aurora Artists' Guild points out, guilds attract all types of people, from older artists looking for something beyond one-off courses to recent university graduates seeking the kind of community they had at school. "People have different reasons for joining a guild," Ward says. "There's a perception in some areas that guilds are for older or retired artists, but there are young members as well, and they have a lot to gain from the association and mentorship that a guild can offer."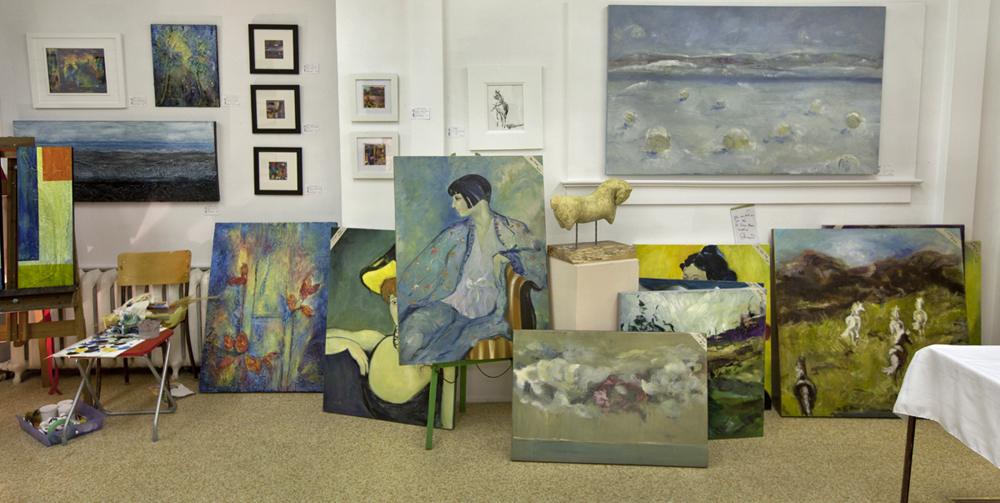 The Mix Collective, Saskatoon
Delainey agrees that guilds can offer personal, creative, and professional development. "It's a wonderful support group. You're always encouraged to grow and learn. I think that fits professionally as well, because through encouragement and support, you grow as an artist." Ward's experience is similar: "There's great camaraderie," she says. "It gives you exposure, and it gives you that push, that motivation."

Aside from the chance to connect with other artists through guild meetings, workshops, and retreats, the opportunity to show and sell work is one of the biggest draws for artists. "It's hard for artists to get their art into the community, unless you're with a gallery," Delainey says. "So how do you get your art out there?" Many guilds hold at least one (and often two or three) shows each year, allowing artists to develop an audience, display their work, and, of course, sell it. In Delainey's experience, art lovers look to guild shows as a trusted source of quality art: "Because my guild has been around for a while, and it's got an established reputation of excellence, it has a following."

Artist guilds are member-driven organizations, often registered as non-profits. This means that member involvement is important, and most guilds require some minimum level of participation in planning events and guiding the organization. Many active guilds hold meetings at least once per month, and some even meet weekly, giving members plenty of opportunity to contribute. As Kay Bradley of the Regina Federation of Artists points out, "We can always use other skills that members have." She provides the example of how her guild greatly benefited when web designer Mark Sexton joined and was able to establish a website for the organization.

Saskatchewan is home to over twenty artists' guilds, both in the larger cities and in smaller centres. Some have fewer than ten members, while others have over 40, and the guilds' mandates, levels of activity, and accepted art forms vary. Artists who are seeking to join a guild can find information about their options online (including Saskatchewan NAC's database of guilds and associations in our Resources section), through professional associations, and from other artists. And NAC's article on the history of some Regina-and-area guilds provides a good starting point for artists local to that area.
by NAC contributor Jessica Boyachek.
June 30, 2014
Featured Articles
Connect With Us