Saskatchewan Artist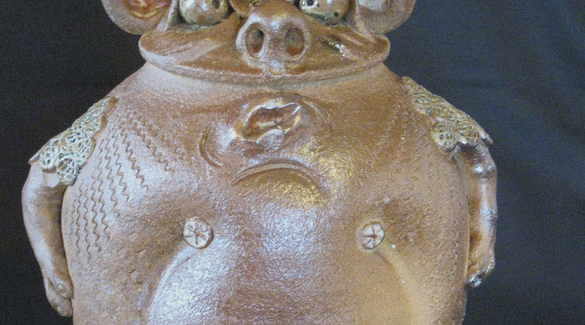 Untitled - clay sculpture - by Wendy Parsons
Wendy Parsons
Wendy Parsons was born in 1949 in Wolseley, Saskatchewan. She studied at the University of Regina with Marilyn Levine, Mel Bolen, and Don Chester, receiving her Bachelor of Fine Arts in 1971. She took further classes there with David Gilhooly and Joe Fafard as well as clay workshops with Ron Nagel (1978) and Jack Sures (1979). Parsons went on to receive a Master's Degree in Museum Studies from the University of Leicester, England in 2002.

Parsons is interested in infusing her optimism and joy into her work, which includes animal and animal-like figures. She collaborates with fellow artist Zach Dietrich, with whom she runs Parsons Dietrich Pottery in Moose Jaw, Saskatchewan. Her work has been shown in solo and group exhibitions across Saskatchewan and in British Columbia, and is represented in collections including the Moose Jaw Museum & Art Gallery and the Saskatchewan Arts Board. In 2010, there was a major retrospective of Parsons' work at the Moose Jaw Museum & Art Gallery.

During her career, Parsons has also served as artist-in-residence in Weyburn and as an educational coordinator at the Moose Jaw Museum & Art Gallery and has been involved with the Art Smart program of the Saskatchewan Arts Board. She has also taught workshops to children and adults throughout the province.

As an active member of the Saskatchewan arts community, Parsons was one of the founders of the Saskatchewan Craft Council, set up a co-operative studio in Weyburn and built one of the first high temperature wood-fuelled kilns in the province. She has also been involved with the Saskatchewan Arts Board and Sask Terra.

Wendy Parsons lives and works in Moose Jaw, Saskatchewan.
Wendy Parsons
Born:

1949. Wolseley, SK

Resides:

Moose Jaw, SK

Mediums:

Ceramics, Sculpture
Connect With Us