Archaeology of Elegance: 1980-2000
SOLD OUT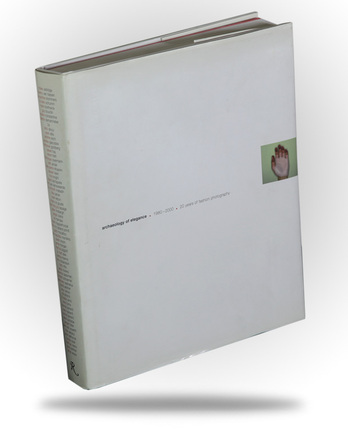 Twenty Years of Fashion Photography
An exceptional and dynamic collection of over 200 superb fashion photographs by acclaimed photographers.
Used - Hard Cover - 368 pages - 2002 - 30.9 x 26.5 x 3.9
Very Good condition. Dust jacket shows some where, but all pages are in excellent condition.
Out of Print. Original list price is $85 USD, and used copies usually sell for between $90 and $150.
Description: Archeology of Elegance is an exceptional and dynamic collection of 200 superb photographs by sixty-two of today's most acclaimed photographers from Robert Mapplethorpe to Peter Lindbergh, Miles Aldridge, Herb Ritts, Ellen von Unwerth, Nick Knight, David Lachapelle and Jean-Baptiste Mondino, presenting fashion photography as art. During the past twenty years, there is no question that fashion photography has become a driving force for new directions in fashion, design and cosmetics and a vital source of ideas for the visual arts and design–manifesting itself in forms as diverse as punk rock, glamour or high-tech futurism. According to culture critic Ulf Poschardt, fashion photography has become the new, almost self-sufficient leitmedia of international culture, a culture that is expressed increasingly in visual terms. As seen in Archeology of Elegance, this once commercial and functional craft has become, without question, an art form in itself.
---
Images of used items in the NACstore are always photographs of the actual item being offered.
NAC Item Number: UB0211
Related Products
Reframing America
America as seen by new Americans like Robert Frank, Lisette Model and others
SOLD OUT