Location Stories Bottle - Blue with Orange Squares
$275.00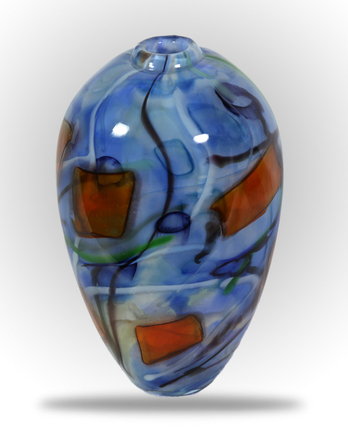 Featuring Saskatchewan Artist(s): Susan Rankin
by SUSAN RANKIN
LOCATION SERIES BOTTLE FORM
BLOWN GLASS - 8" x 5" x 4"
Excellent Condition - No Blemishes
Provenance: Assiniboia Gallery (Regina) - current private collection (Regina)
The artist, on the Location Stories works: With this series of blown vessels I am working with more transparent and translucent colours, shards, glass threads and thread drawing. The resulting pieces have a history/story built into the surface, which encompass the optic qualities of glass and light. The forms are simple as were some of my earlier pieces but these new pieces have a more optic feel to them. The story is abstract but engaging and flows around the form. There is a weightlessness a suspended motion caught within the depth of the surface.
This item is PST-free (previously-owned artwork under $300)
You can inquire about this artwork and delivery methods by emailing robin@sknac.ca
Related Products
Self Portrait
by Artist of the Month Bronwyn Schuster
$495.00