Scenic Saskatchewan Drives
SOLD OUT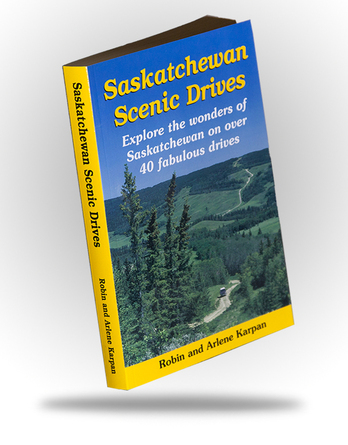 by Robin and Arlene Karpan
Soft cover, 240 pages, 120 b&w photographs, 45 maps
6 inches by 9 inches
Saskatchewan Scenic Drives takes you off the major highways and into Saskatchewan's scenic heartland. Follow secondary highways, grid roads, and backroads to spectacular river valleys, forested lakelands, wild badlands, secret hideaways, and awesome vistas.
Drive a third of the way across Saskatchewan entirely in the Qu'Appelle Valley. Take a little-known backroad through the Big Muddy Badlands. Discover Saskatchewan's biggest tree in a beautiful river valley, or wander through the Thickwood Hills to the other-worldly "Crooked Trees". Drive right beside massive sand dunes, cliff-top viewpoints, prairie dog towns, or an exotic tropical-like fern forest.
Precise directions and maps make it easy to discover these and many more Saskatchewan scenic wonders.
CONTENTS
Cypress Hills
Ramblings in Dinosaur Country
Grasslands National Park and Frenchman River Valley
Wood Mountain Wanderings
Big Muddy Valley - Willow Bunch to Castle Butte
Souris Valley - Estevan to Hwy #9
Moose Mountain Hills
Qu'Appelle Valley - Lumsden to Hwy #6
Fort Qu'Appelle and the Echo Lake Loop
Qu'Appelle Valley - Fort Qu'Appelle to the Manitoba Border
Last Mountain Lake National Wildlife Area
Saskatoon to Regina Via Lake Diefenbaker
Circle Lake Diefenbaker
Leader and The Forks
Great Sand Hills
Rosetown to the Alberta Border Via Eagle Creek and the Great Wall
Quill Lakes International Bird Area
Yorkton, Duck Mountain, Good Spirit Lake Loop
Woody Lake Road and the Porcupine Hills
Kelvington to Greenwater Lake Loop
Saskatoon to The Battlefords - South of the River
Thickwood Hills - The Battlefords to Spiritwood
The Battlefords to the Crooked Trees Via Burma Road
Hafford to Blaine Lake Via Redberry Lake and the Thickwood Hills
Saskatoon to Prince Albert Via Fish Creek Road
St. Walburg to Fort Pitt Loop
Meadow Lake to Loon Lake Loop
Meadow Lake to Chitek Lake
Prince Albert to the Saskatchewan River Forks
Prince Albert National Park and the Lakelands
Prince Albert to La Ronge Via Candle Lake and Nipekamew
Hanson Lake Road
La Ronge to the Churchill River
NAC Item Number: Parkland002
Related Products