Drawing for Dummies
$6.95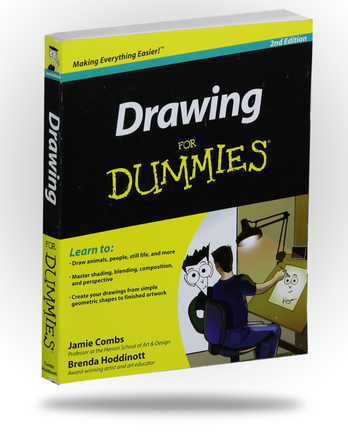 A Reference for the Rest of Us
Soft Cover - 360 pages - 2011 - 9.2" x 7.25"
Used - Very Good Condition - some signs of wear on the cover and spine
Cover price is $23.99
The fast and easy way to learn to draw
Drawing can enrich your life in extraordinary and unexpected ways. Drawing your everyday experiences can change how you and others see the world, while drawing from your imagination can give rise to fantastic new worlds. And, despite what you may believe, it's something just about anyone can learn to do.
Drawing For Dummies offers you a fun, easy way to learn the drawing basics. Holding fast to the simple philosophy that only you can teach yourself to draw, it gives you the tools you need to explore the basics and move on to more advanced techniques. This revised edition of one of the most successful For Dummies guides includes
Additional step-by-step instructions for drawing people, animals, still life, and more

Coverage of effects, composition, and perspective

How-to art projects that show you how to create your drawings from simple geometric shapes to finished artwork
It's never too late to unleash the artist within. Let Drawing For Dummies, 2nd edition put you on the road to discovery and self-expression through drawing.
Images of used items in the NACstore are always photographs of the actual item being offered.
Related Products