Saskatchewan Art Events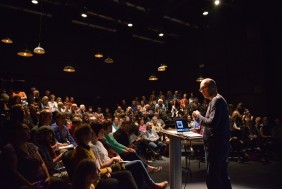 | | |
| --- | --- |
| Date: | Tuesday February 25, 2020 |
| | |
| --- | --- |
| Address: | 102 Spadina Crescent East Map It |
Lecture and discussion - Tuesday February 25, 7 pm, at the Remai Modern.
Who is Ileana Sonnabend -- An art dealer connects artists to buyers or clients, usually managing their business through a gallery. In the late 1960's and 1970's, a number of female gallerists, including Ileana Sonnabend, helped to shape the reputations of the most influential artists of the 20th century. Do women bring something special to art collecting and galleries? How have female gallerists shaped art movements?
Artists may spend weeks, months, even years creating a work of art, yet many viewers spend only seconds looking at it. This ongoing series is designed to slow things down, explore some big ideas, and offer tools and practices for looking at and talking about art. The evening will conclude with refreshments and conversation. $10 per session with admission or membership. To register email workshops@remaimodern.org.