Saskatchewan Art News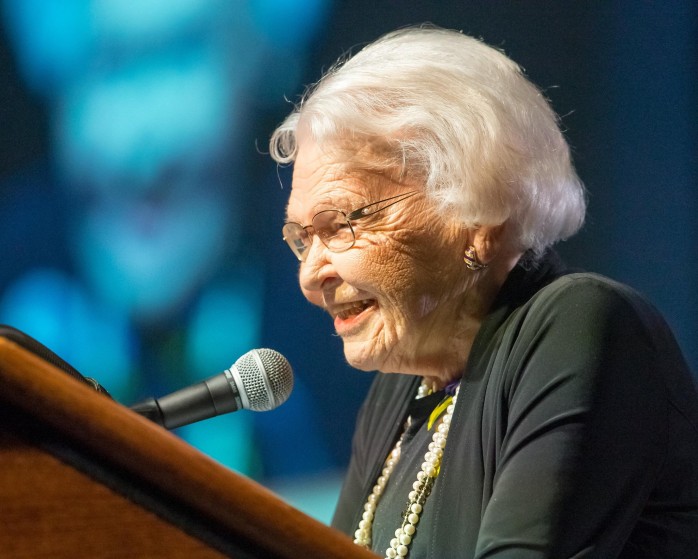 Thelma Pepper Receives Saskatchewan Order of Merit
Saskatoon photographer Thelma Pepper has just been awarded the Saskatchewan Order of Merit, the province's highest honour.
Thelma Pepper was born in 1920 in Kingston, Nova Scotia, where both her father and her grandfather were serious amateur photographers. She remembers photographing pilots landing at a nearby airport and with the help of her father, developing the prints and distributing them to the pilots' families. But for her career, Pepper pursued an interest in science, garnering Bachelor of Science and Master of Science degrees in Nova Scotia and Montreal before moving to Saskatoon in 1949 with her husband Jim, also a scientist.
Pepper returned to photography later in life, at age 60, and her photography career took off with solo exhibitions beginning in 1986. In 1990, her show Decades of Voices: Saskatchewan Pioneer Women, which incorporated portraits and interviews of pioneer women, toured nationally for four years.
Pepper says Saskatchewan people are her favorite to photograph especially as they became more passionate, caring and stronger following the Great Depression.
Pepper possesses a unique quality of building a sense of trust with her subjects, which results in work that poignantly reveals their inner, emotional and spiritual truths.
The 2009 National Film Board documentary A Year at Sherbrooke chronicles Pepper's leadership in the creation of arts programming for long-term care residents in Saskatoon.
Still passionate about her work in her 90s, Thelma recently launched her book Human Touch: Portraits of Strength, Courage and Dignity, which was shortlisted for Book of the Year at the 2011 Saskatchewan Book Awards.
In 2014 Thelma received the Lieutenant Governor's Arts Award for Lifetime Achievement.
The 2018 Order of Merit will be presented to Thelma Pepper on May 23rd, in Regina.
May 03, 2018