Van Gogh - Master Draughtsman
$94.95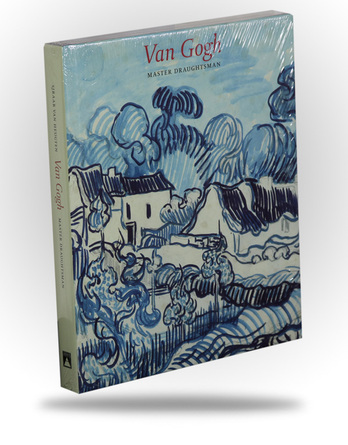 Out of Print - Collectable art monograph with 163 plates in full color.
Used - Hard Cover - 192 pages - 2005 - 29.7 x 24.6 x 2.3 cm
Excellent condition. Brand New - Never opened (in plastic). Out of Print. Collectible. Elsewhere online, unopened copies start at over $110, generally over $150.
Review 1: Vincent van Gogh may be the best-loved artist in the world today. His brilliant colors and energetic brushwork have a passionate appeal that touches nearly everyone. Few people, however, are familiar with van Gogh_s drawings. Van Gogh: Master Draughtsman will bring the reader to a new world of this astonishing artist_s imagination, a sensuous world of toned papers, vibrant lines of chalk and pen, veils of watercolor and pastel, and sparkling white highlights. Here we can truly see the artist at work, forming his first ideas, thinking them through, and bringing them to dazzling maturity. Created by the Van Gogh Museum in Amsterdam to accompany a traveling exhibition of the master_s works on paper, this beautiful book will be an indispensable joy and resource for artists and art lovers everywhere. Lavishly illustrated with 163 plates in full color, the panoply of van Gogh drawings is presented here in full flower.
Review 2: Van Heugten (head of collections, Van Gogh Museum; The Graphic Work of Vincent van Gogh) gives a detailed history of Van Gogh's quest for artistic expression in this beautiful and well-researched volume created to accompany an exhibition that went on display in the Van Gogh Museum, Amsterdam, and the Metropolitan Museum of Art, New York, in 2005. Van Gogh has long been known for his extraordinary use of color and bold brush strokes. When he first began his career, however, he was completely unschooled in artistic techniques. Using pen and ink, pastels, and watercolors, Van Gogh learned the techniques of illustration from textbooks and examples of other artists' works as well as through sheer determination. The art in this book, which is broken down by years and locations spanning 1880-90, shows his progress from his first efforts at rendering realistic drawings to the development of his unique style, so familiar to us today. The collection, illustrated with more than 150 full-color plates, contains many of Van Gogh's works not normally included in collections of his work. Recommended to all libraries.
---
Images of used items in the NACstore are always photographs of the actual item being offered.
NAC Item Number: UB0121
Related Products
Our Towns
Saskatchewan Communities from Abbey to Zenon Park
$95.00