Portraits
$13.95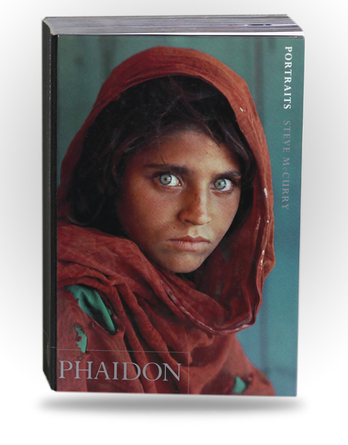 Phaidon book of Steve McCurry portrait photographs
Used - Hard Cover - 1999
512 pages.
Excellent condition.
Critically acclaimed and recognized internationally for his classic reportage, over the last 20 years Steve McCurry has worked for National Geographic and other publications on numerous assignments -- along the Afghan border, in Baghdad, Beirut and the Sahel. McCurry's coverage of the monsoon won first prize in the World Press Awards, and was part of his portfolio when he was named Magazine Photographer of the Year in 1984. In 1985, McCurry photographed an Afghan girl for National Geographic. The intensity of the subject's eyes and her compelling gaze made this one of contemporary photography's most celebrated and best-known portraits. McCurry is now equally famous for his other portrayals of memorable faces that he has encountered while travelling throughout the world. Compelling, unforgettable and moving, McCurry's images are unique street portraits: unstylized and unposed snapshots of people that reveal the universality of human emotion.
---
Images of used items in the NACstore are always photographs of the actual item being offered.
NAC Item Number: UB0042
Related Products