Saskatchewan Trivia Challenge
SOLD OUT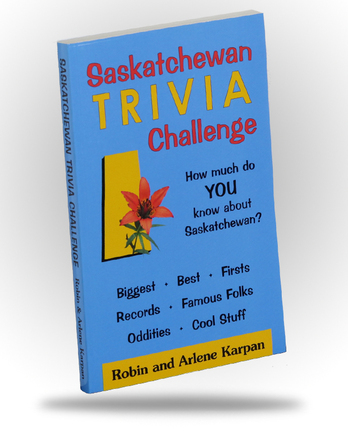 By Robin and Arlene Karpan
Soft Cover, 192 pages, 85 b&w photographs
5 1/2 x 8 1/2 inches.
Where can you find the largest lake in the world that drains into two different oceans? Where is the world's largest potash mine, North America's largest collection of rare 13th to 17th century books, or the goat that served in World War I and has the medals to prove it? They're all in Saskatchewan.
Answers to these and over 240 other intriguing questions are found in a Saskatchewan Trivia Challenge by Robin and Arlene Karpan.
The 192-page book, supplemented with 85 black and white photographs, is packed with important (as well as completely frivolous) tidbits of information on Saskatchewan's biggest, best, firsts, records, famous folks, oddities, and just plain "cool stuff" that makes Saskatchewan such a fascinating place.
Discover why the folks at Cape Canaveral came to Saskatchewan to buy fire bricks for their launch pad, which lieutenant governor had a pet monkey that liked to swing from the chandeliers in Government House, and the crop where Saskatchewan farmers account for three-quarters of the world's production (hint - it's not wheat, barley or canola). Find out where you would be playing golf if you hit the ball on the 9th tee and the ball landed an hour later in another country.
Winner of the 2000 Souvenir of the Year Award from Saskatchewan Tourism Awards of Excellence.
NAC Item Number: Parkland003
Related Products
Two Pavillions
Museum and a Tent. For the Exploration of a Dark Continent
$3.95
Kin
Limited edition book signed by Leesa Streifler
$14.95