Bill Mason - Canoescapes
SOLD OUT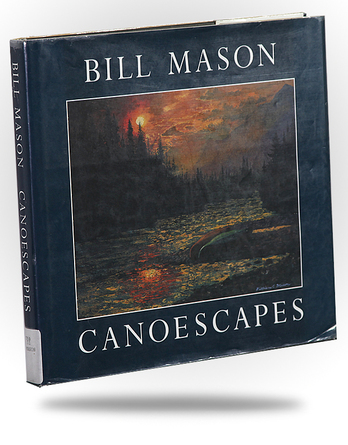 Bill Mason - Canoescapes
Used - Hard Cover - 160 pages - 1995 - 10.25" x 10.75". Profusely illustrated.
Ex-library book, with library stamp on frontispiece, library cover, library stickers on spine and back. Pages are in very good condition.
Cover price is $50 CAD.
From the publisher: We're delighted to present this outstanding collection of paintings and short essays by the late Bill Mason. His boundless enthusiasm for this country's rich and varied landscape, and the watercraft that allowed him to explore it, help lift from the page these exceptional paintings. Known primarily for his work as a filmmaker, author and canoeist, Mason spent a lifetime sketching and painting the rivers, lakes, waterfalls, marshlands, cliffs and campsites that he loved. They appear here in all weather, in all seasons. Most of the paintings featured in this book are impressionistic, some are realistic; in each painting, Mason sought to create images that would reveal new insights with repeat viewing.
_________________________________
Images of used items in the NACstore are always photographs of the actual item being offered.
NAC Item Number: UB02678
Related Products