NAC Articles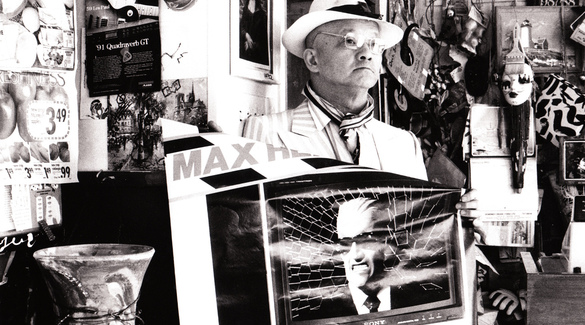 Roger Ing in New Utopia Cafe - 1993 - photo by Jason Weedmark
Roger Ing's Utopia
by NAC contributor Judith Silverthorne
The name Roger Ing could be considered synonymous with the word phenomenon, albeit in some circles of the art world he's seen more as an anomaly, a non-conformist, and an "outsider." His unusual style of work has come to be known as "Rogerism" or "Roger Style" in many art communities. The term is almost as famous as the man himself, and so is the place where he accomplished the majority of his work, the New Utopia Cafe, in Regina, Saskatchewan. The New U, as it was sometimes called, also became a favourite haunt of Regina's fringe artists, musicians, & writers in the 1980s, and early 1990s.

Roger Ing was an affable, outgoing man with a striking sense of humour who painted for over half a century, beginning as a child. He came to Canada in 1950 from a very small village in China near Guangzhou. As an eighteen year old inexperienced traveller, he journeyed through the bustling metropolis of Hong Kong, arriving in Regina in bewilderment during Grey Cup week. Shortly thereafter, when he wasn't working in his father's downtown Regina restaurant, he immersed himself in painting and studying with Ken Lochhead, one of the Regina Five artists at the newly formed School of Art at Regina College (now the University of Regina).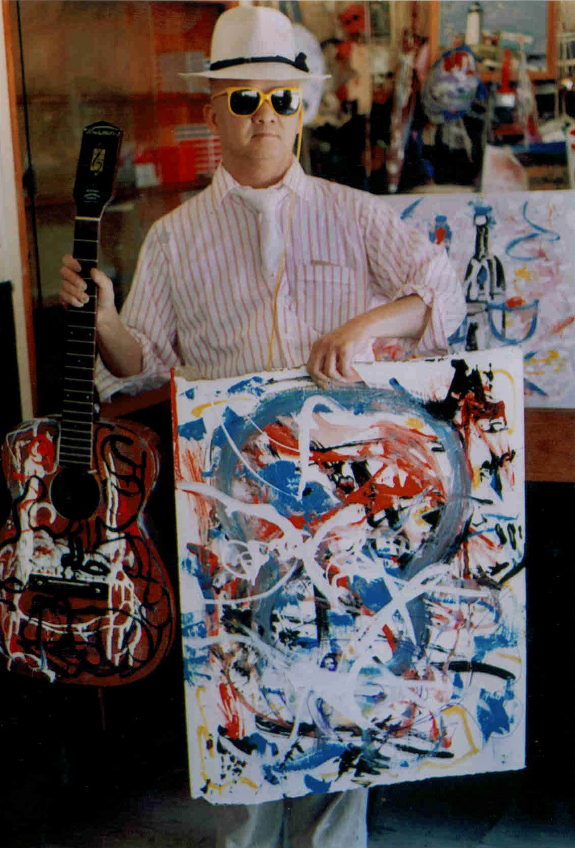 Roger Ing
Coming from a background of training in traditional Chinese forms and calligraphy, which venerated meticulous brushwork in a realistic style, Ing found that at first western art, especially abstract art, surprised and confused him. However, once Lochhead introduced him to the Abstract Expressionist style then sweeping North America, it wasn't long before Ing developed his own style . He at first dubbed it Chinese Expressionism, which combined the styles of the east and west. Ing was particularly struck by the modern unconventional work of Jackson Pollock, Franz Kline, Marc Chagall, William de Kooning, and Pablo Picasso.

Eventually Ing, along with his wife Mei, bought their own cafe on Dewdney Avenue, which he named The New Utopia Cafe. In spare moments between customers, Ing slipped away to paint in the back, modestly bringing his work forward to hang on the walls. Gradually customers took note and he began selling the odd pieces to them, also charming them with his anecdotes and good nature. As Ing's artwork evolved, so did his following of enthusiasts, and he started attracting the artistic community as clientele. This was also when he began, partly in jest, referring to his unusual style as "Rogerism" or "Roger Style." The name stuck, and a diverse inner-city community of core residents, university students, and prototypical starving artists of all kinds began focusing on Roger Ing and his work and venue.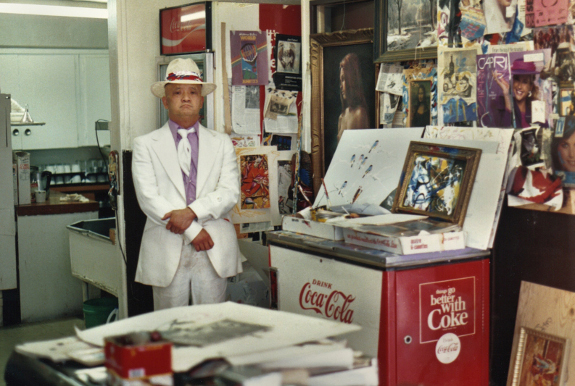 Roger Ing

Studio, gallery, restaurant: the New Utopia Cafe was one and the same for Ing for 23 years. When he wasn't out front serving customers, he was in the back creating new Rogerisms. A clutter of found objects, finished and unfinished Rogerisms dominated the place, covering the walls in excess. He always had pieces ready to sell at low prices ranging from five to fifty dollars, and he often went to great lengths to please clientele, including repainting Rogerisms to match someone's decor, mood or whim.

Preferring household paraphernalia and recycled materials to traditional and expensive art supplies, Ing created Rogerisms by splashing house-paint enamel on cardboard, paper, magazines and even the Utopia walls, while he still operated the venue. He used all sorts of mediums imaginable -- guitars, magazine covers, advertisements, Christmas decorations, old LP records, other people's art, bottle caps, scraps of wood, bike-wheel spokes, hangers attached to kitschy paintings, old photos, and cooler tops. Most of his materials he obtained from second-hand stores, like already framed pictures which he painted over. When he would run out of materials, he painted on the flip side of an old piece of Rogerism, which incorporated a sense of sculpture that the observer had to circumnavigate.

Ing's use of abstract expressionist style created an eclectic, visually exciting collection. He was serious about his work, but often reflected his personal comments and wit on current events and controversies. His sense of humour and satire emanated through his vibrant style, leaving the viewer inspired and entertained. His style ranged from simple line drawings to dense layers of expressionistic imagery, and he often worked in series of his favourite subjects like, tigers, dancers, sunflowers, birds, nudes, Frankensteins, or Mona Lisas. He painted on a whim, creating several works a day, driven by a life-long passion.

Although there has been ambivalence shown by some mainstream and intellectually oriented artists regarding Ing's work, he attracted interest from the recognized gallery community and a number of well-known artists and collectors like Jack Severson, Dan Sali, Joe Fafard, Art McKay, Edward Poitras, and others, who have been gathering his pieces and being supportive over the years. Dismissal by major galleries and some of the `culturally elite' notwithstanding, Ing received considerable attention from local and national media. The restaurant and Ing were featured twice in 1991 through live feeds on MuchMusic's program "Mike and Mike's Excellent X Canada Adventures," where they referred to his cafe as "one of the most exciting places in Canada."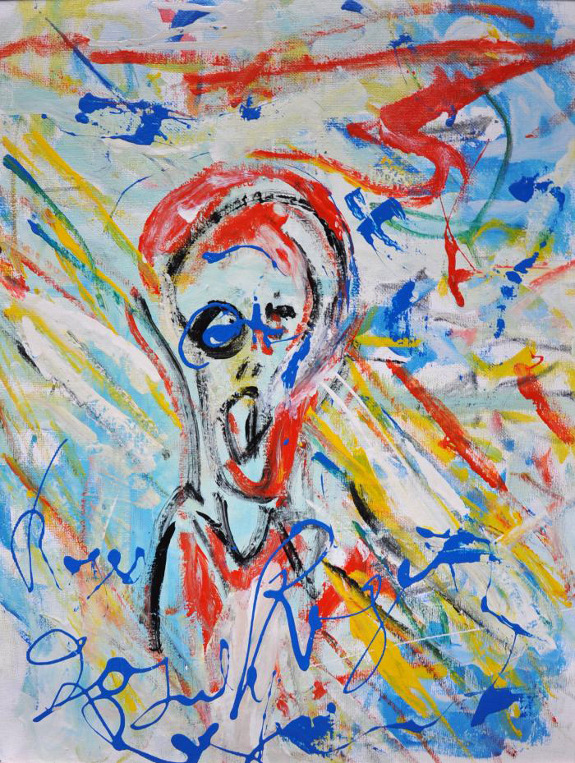 Untitled (scream) - 1988-1990 - by Roger Ing
Over the years Ing had many modest exhibitions, including as a contributor of a Saskatchewan Arts Board show at the MacKenzie Gallery in 1962, as well as having solo exhibitions at The Bridge Gallery in 1993, the Albert Library in 1988 and 1989, plus several in the Saskatchewan Cultural Exchange Society Club Gallery, in Regina, in 1988, 1992 and 1996. His work was also featured in several group exhibitions at the same venue, and a joint exhibition at Regina's Albert Library with Jack Severson in 1989, as well as many other shows. And, of course, his work was always on display at The New Utopia Cafe.

When his restaurant was unceremoniously closed because of health infractions in the summer of 1993, there was a "Farewell to Utopia" bash and retrospective exhibition of Ing's work at The Saskatchewan Filmpool Cooperative, also sponsored in part by the Bridge Artists' Co-op. The event was a huge success and a show of support from Roger Ing's eclectic community.

Ing took the attention of his clientele, friends, fellow artists, curators, and the media in stride, enjoying the hype to the fullest, even posing for photographs. He was proud of his accomplishments, and quick to share his scrapbooks of photographs and newspaper clippings with those who were interested. One of his favourite photographs was one taken in 1991 by internationally known artist, Edward Poitras: in it, Ing poses outside his cafe in his trademark white suit.

Yet, for all his pleasure at having recognition, Ing never promoted himself as a professional artist. This attitude is perhaps why he tended to be ignored by mainstream galleries until very late in his life. Other factors like his accessibility, the vast number of works he created, or his indifference to the self-imposed restrictions and guidelines of the arts community might have also been reasons. A further reason might stem from the fact that because of his status as a Chinese immigrant, and his difficulty with English, Ing did not actively participate in the more elite Regina art community.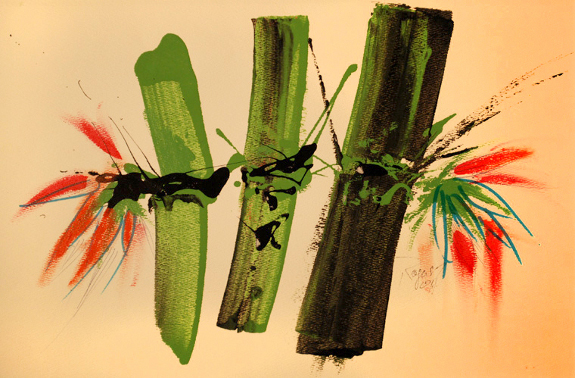 Bamboo - 2001 - by Roger Ing

However, Ing gained phenomenal attention over the years. In 1998 a television documentary, Roger Ing's Utopia, was produced by Judith Silverthorne. The premiere screening was held at the MacKenzie Art Gallery, where Ing's work was also shown for the first time in a solo exhibition in a major gallery. This brought Ing to the forefront once again, though up until that time non-local galleries mostly continued to dismiss Ing's artistic concepts and unique style. Ing took this in stride as well, for with or without it, he continued to have a loyal following, including those who believe every household should have a Roger Ing.

Ing still actively painted while in his 60s and early 70s, although his health was sometimes precarious because of diabetic complications. He worked mostly at home, although he was sometimes known to join other artists in their studios for a few hours, where he'd dash off several pieces and then pack up and leave just as unexpectedly as he arrived. He painted for contentment, using images that please, his raw material everyday objects, his art a compulsion.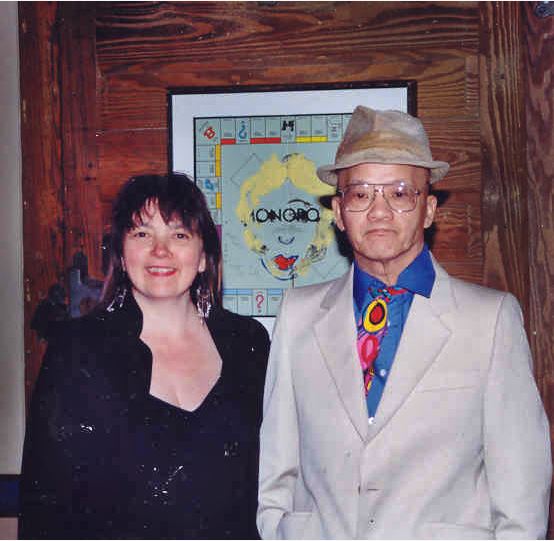 Roger Ing with NAC contributor Judith Silverthorne, 1998

His work is now being more readily recognized by reputable galleries, garnering more interest from more far-reaching communities. His work has been consistently exhibited within Regina, often at coffee house galleries like Roca Jack's, and the Novia Cafe. He enjoyed these types of venues where people could sit amidst his work and enjoy his paintings, perhaps because of the reflective atmosphere of days gone by when his art and aura permeated the New Utopia Cafe.

The Utopian atmosphere might be gone, but the spirit of the place lives on, and so does Ing's unique style of art. Ing became a culture-hero for many in Regina's artistic communities and a legend in his own time. Roger Ing passed away on July 22, 2008 at the age of 75 years.
---
Judith Silverthorne is a multiple-award winning Saskatchewan-based author of nine children's novels, one of which is a Japanese translation, two non-fiction adult books and has written and produced several television documentaries. Her latest book, Ghosts of Government House was released in the spring of 2011. She has given hundreds of readings and writing workshops at libraries, schools, and presentations at conferences www.judithsilverthorne.ca.
November 28, 2011
Featured Articles
Connect With Us